We Offer Precise Repairs
Since our beginning in 1913, Cook Roofing Company has been making strides in the roofing industry with durable materials and expert construction. We have gained knowledge and upgraded our tools and techniques in order to ensure that attention to detail is met with each and every repair project. We make a point to have secure fittings and materials matched to your home or business. When you're in need of residential roof repair in Springfield and Branson, MO you can count on our professional roofers. We'll be happy to guide you through your repair options any time at (417) 334-4238. We look forward to providing you with quality roofing services!
How Repairs Can Help
Your roof is made up of a variety of smaller components that work together to form a protective system. When you need a localized residential roof repair job you can incorporate cost-effective solutions without impacting other areas of the roofing system. A roof inspection will ultimately pinpoint where problem areas lie without the hassle of compromising other systems. As of such, some common areas of concern can include the underlying areas of your roofing system as with your roof flashing. Others can include the areas under your eaves and arches such as your soffit and fascia. The underlying areas of your roof are more susceptible to impact and water damages if left unprotected, so it's important that your insulation and other materials are not exposed to hail or high winds. Oftentimes, roof structures are the first areas of impact for flying debris or falling trees. When you notice an issue with your chimney, be sure to contact someone right away for assistance. Not only that, but the build-up of soot with chimneys can risk the formation of fires so be sure to have the lining cleaned or replaced periodically or on an as-needed basis. Another area that protects your home is your gutter system. These systems are important as they guide water into a pathway away from your siding materials and landscaping which can be damaged from water infiltration. There are various areas of your roofing system that can be impacted at any time with a need for repairs. Such factors can include the natural progression over time, being affected by other roofing damages or through the effects of inclement weather. That's why we know it's of utmost importance to offer a wide variety of repair options for our residential clients. When you're in need of roof repair in Springfield and Branson, MO, Cook Roofing Company is ready to assist you!
We're Here For Your Emergency Repairs
Damages to your roof can happen at any time of the day or night and are often unexpected. From hail, wind, rain, snow, and more, your roofing system can be impacted in such ways that may call for immediate assistance! That's why we make sure to offer 24/7 emergency roof repair for all of our clients so their roof can be taken care of no matter the time of day! If you're experiencing a situation where your immediate safety is put at risk please be sure to contact 911 first! Once safety has been secured, we'll be able to come to the rescue with any damages made to your roofing system! Don't let the damage from leaks and punctures ruin the interior of your home. Whenever you suspect that a passing storm has wreaked havoc to your structure don't hesitate to give us a call. Ultimately when larger areas are impacted from extensive roofing damages a residential roof replacement will be more necessary to save your roofing structures and support. If you'd like assistance with such services as roof replacement or residential roof repair in Springfield and Branson, MO, Cook Roofing Company is here for you!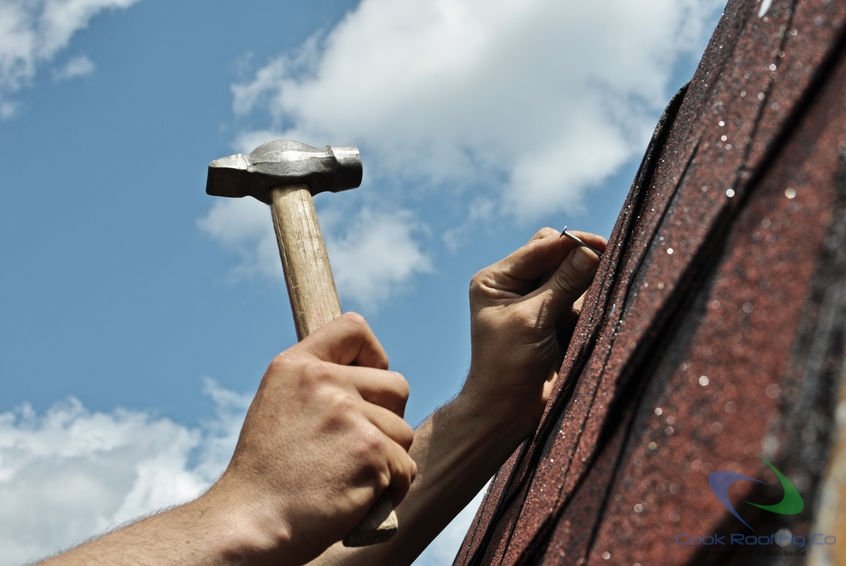 Schedule An Appointment Now
Your roof is in good hands when you're needing a qualified roofing company to help with your residential roof repairs. Cook Roofing Company has qualified and experienced roofers that are familiar with a variety of damages and will be able to help get your residential roof back to great in a timely manner. Get the help that you deserve with residential roof repair in Springfield and Branson, MO. We make sure to back up all of our roofing projects with workmanship warranties so you can have a roofing system with increased longevity and secure connections. When you have any questions our lines are open with a staff member that's ready to help. Give us a call at (417) 334-4238 to get the roofing process started!