Last Updated on April 17, 2021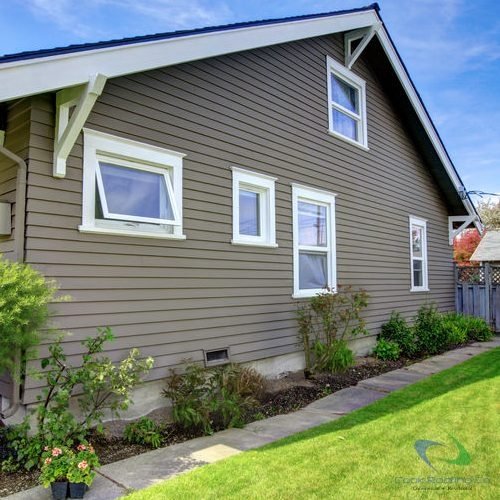 Siding Installation and Repair
Siding does more than make your house look nice. Siding keeps water from getting into the plywood, framing, walls, etc of your house. If you have cracked or broken siding a nice provides support and protection against outside elements on the exterior walls of your property. It's important to have them properly maintained in order to avoid water infiltration and other damages. Cook Roofing Company has years of experience in providing secure attachments to your home, you can expect properly installed siding with the skills of our experienced workers. If you're interested in siding installation in Springfield MO and Branson call us at (417) 334-4238!
Possible Siding Problems
Your home's siding can be affected by weather and other dangers that can cause it to be damaged. A common issue with vinyl siding, for example, is improper adherence to the home. In order to allow for slight movements such as expanding and contracting with temperature changes, it must be fastened properly by being slightly loosened or else it might buckle or warp. A common problem with siding problems is with cracking formation, this can be caused by rocks being hurled from a lawnmower to heavy tree impact or hail. Inclement weather can cause the siding materials to expand and contract and exposure to moisture can lead to further cracks or mold growth if water seeps in. Another issue can be with fading siding materials which can be caused by direct exposure to sunlight. The sun prematurely ages materials and could lead it to become susceptible to crack formation as well. Here are some examples of conditions that can affect your siding installation's integrity.
Moisture
Inclement Weather
Impact
Rot
Mold
Mildew
When you're in need of siding replacement in Springfield MO and Branson contact us for assistance. It's better to opt for waterproof materials in order to prevent the formation of issues that would prematurely cause a need for replacement.
Contact Us For More Information
When you'd like assistance with you siding materials give us a call at Cook Roofing Company! We have decades of experience in the roofing industry and will be able to recommend siding materials that can improve your siding repair in Springfield MO and Branson. When you need assistance with other areas of your home, our friendly staff will be happy to assist you at (417) 334-4238. We'll be happy to guide you through repairs and durable material options so your home can be well protected no matter the future conditions!