Last Updated on February 12, 2020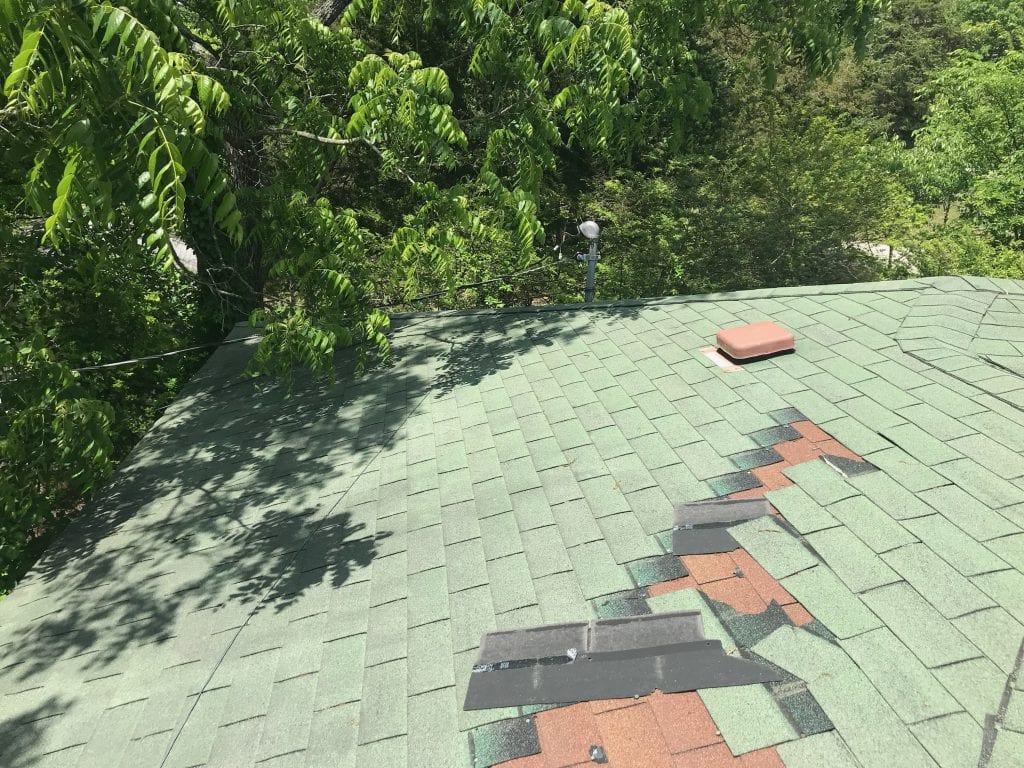 Can Wind Damage My Roof?
Wind damage to roofs is common in central and southern Missouri. High winds can tear off roofing materials, and can also drive flying debris into your roof and damage it that way. The most common issues in the midwest are missing shingles, missing or bent flashing, and fallen branches.
If you've found any of these issues, it's important to have a reputable roofing company in Springfield MO or Branson like Cook Roofing Company come out and inspect for damage. With decades of experience in the roofing industry, not only can we spot damage before it becomes a bigger issue, but you can expect your roof to be repaired as if it were our own. We look forward to speaking with you at (417) 334-4238!
How Does Wind Damage A Roof?
Strong winds have the ability to affect roofing materials by lifting, creasing, and tearing off shingles, or even other components like roof flashing and fascia.
When winds reach about 59 mph, shingles on older roofs might start lifting and tearing. Straight line winds and wind gusts can reach speeds of over 100mph, even in Missouri and Arkansas. Therefore, it's important following a particularly bad storm, to check on the state of your roof.
What Does Wind Damage Look Like?
You may start to see some signs that a wind storm has damaged your roof when you see shingle tabs on the ground or missing from your roof, or bent or missing metal flashing. You may also see branches on your roof, which may have damaged the shingles and possibly punctured your roof.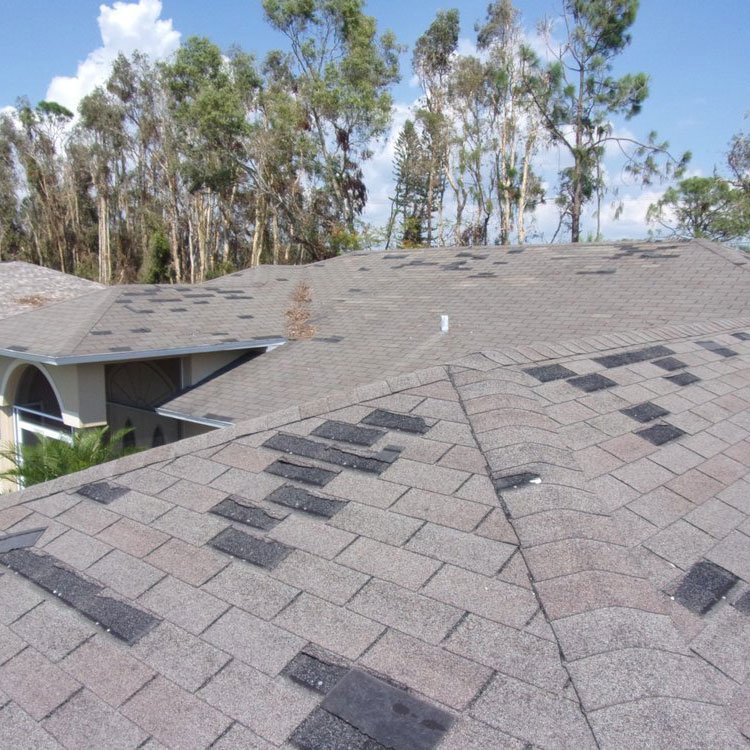 What Should I Do if I Have Wind Damage?
A professional roof inspection will be able to determine the extent of damages. Your insurance company will expect you to mitigate the damage with temporary repairs, and most policies pay for those repairs. Water leaks cause hidden damage that can end up being much more expensive than the roof. Therefore, it's important to prevent further damage.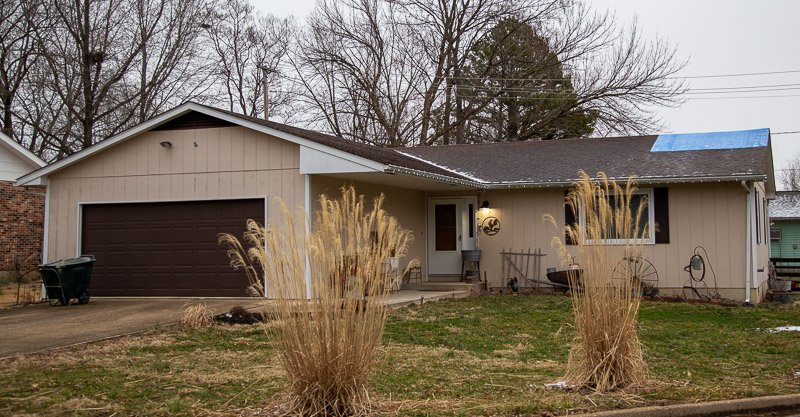 Should A Contractor Meet My Insurance Adjuster?
Unless you understand roof construction, it's a good idea to have a quality roofing contractor meet your insurance adjuster. Adjusters can miss damage sometimes, and some don't understand repairs. This is true for residential roofing, and even more so for commercial roofing. The best roofers will make sure that you get the maximum value from your policy, and that your roof is restored to new condition.
Another reason to have us meet your adjuster, is something called a "reserve." When there is an insurance claim, an adjuster will make a guess as to how much your claim is going to cost. If they come out and try to lowball your estimate, they'll go back to the office and set a low reserve.
Later, when a contractor determines you need a lot more than the tiny amount they sent for the repairs, there's extra resistance from the insurance company because of this low reserve. It's much better to make sure that the adjuster and contractor agree on the amount of work that's needed for repair, when the adjuster makes a first inspection. When that happens, the process is much smoother.
A Word About Contingency Contracts
A good contractor may ask you to sign something saying that if insurance approves your roof, you agree to have them do the work. This is for a few reasons.
First, if we spent all our time giving free estimates, so some fly-by-night roofer could come in and do the work, we'd go out of business.
Second, on insurance work, the only out-of-pocket cost to you is your deductible. You can get multiple estimates if you want, but legally, you should always have to pay your deductible, and you should not have money left over (the insurance term for "money left over" is "enrichment" and is insurance fraud).
So if you are only charged what insurance pays, then you should want the best value for your claim. You should demand that all items needed are done. Flashing, drip edge, starter, ridge, new vents – these are places that some roofers skimp on. Cook Roofing Company replaces all these, and building code requires them.
Some cheaper roofers will take shortcuts or leave off materials. Or they are paying cheap, inexperienced labor. No matter who is paying, you should get your money's worth.
You get what you pay for.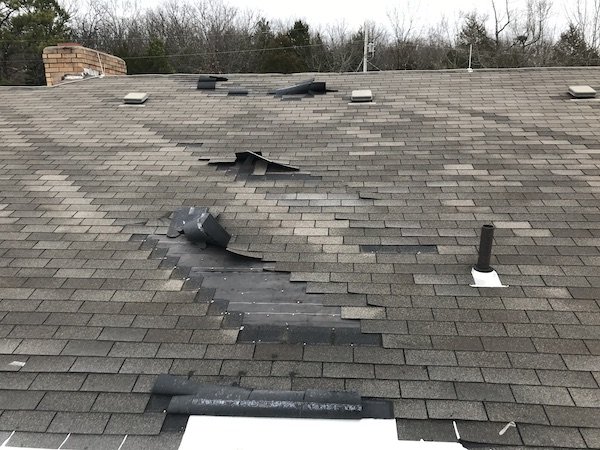 Does Insurance Pay if My Roof is Old?
The bottom line is that if insured property was covered when damaged, the condition of the property does not affect the Replacement Cost Value of that property. Some local roofing companies in Springfield MO have videos saying wear and tear is not covered. This is not true, generally speaking.
While we cannot advise you on your coverage specifically, we can talk about this in general terms. If an insurance policy covers a roof at the time of loss by a covered event ("peril"), the condition of the roof (or other property damaged) does not affect coverage. It only affects its Actual Cash Value (ACV).
Typically, insurance will estimate cost of repairs, subtract depreciation and the deductible, and the first check will cover this ACV amount. With Replacement Cost Value (RCV), the "recoverable depreciation" will be paid when the work has been completed. There may be conditions for this, and you should discuss those with your agent or a public adjuster if you have questions.
You can always call us with questions at (417) 334-4238.
I Have Missing Shingles. Do I Need a New Roof?
That depends on how many shingles are missing, the condition of your roof, the age of your roof, and whether there is deeper damage to things such as the roof decking.
In some cases, it's possible to repair a few damaged shingles. This is especially true if the roof is in fairly new condition, and they are near the top of the roof. Shingles can be lifted up above the damaged ones, the damaged shingles pulled out, new ones nailed in, and things laid back down.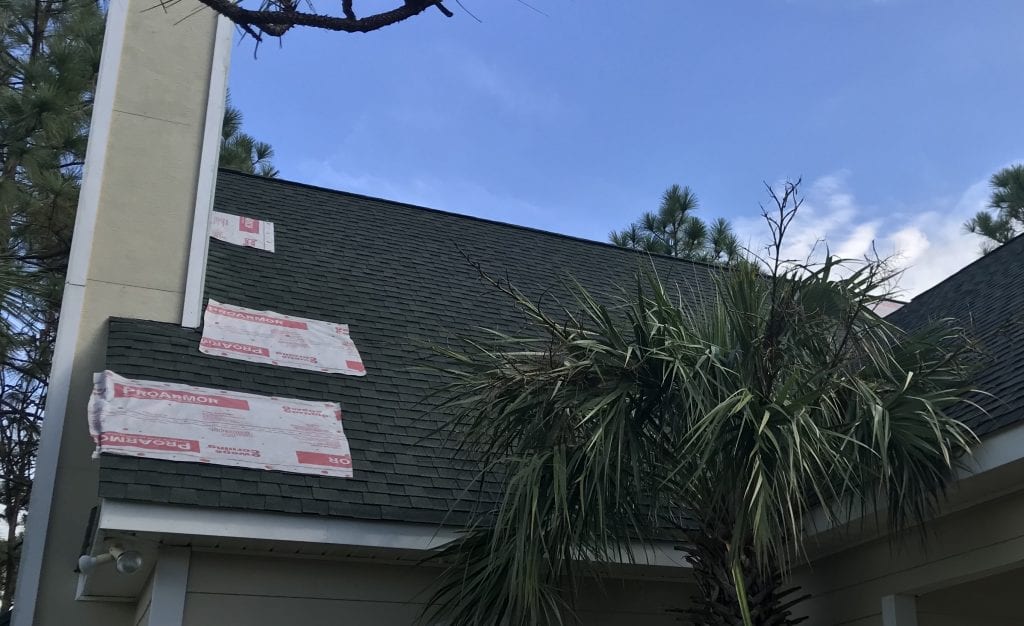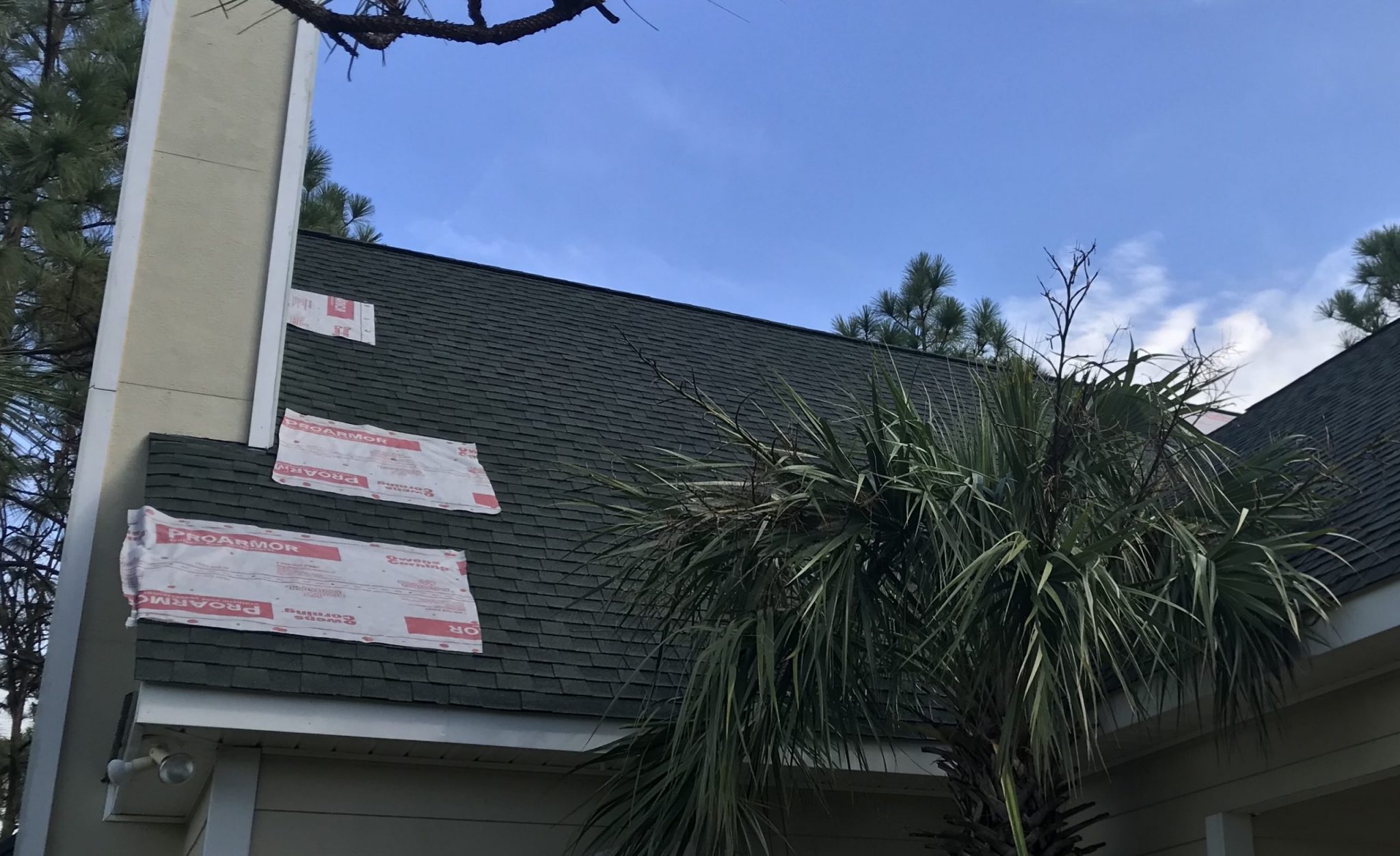 Other times, the roof is old and brittle, or worn, or heat damaged from improper ventilation. In these cases, when the roofer tries to lift the shingles above, those shingles break or rip. Sometimes this can damage many more shingles in the process of repairing them. An experienced roofer can tell whether those shingles can be repaired.
Another situation where a roof is not a good candidate for repair is when there are damaged shingles spread out across the entire roof. After several shingles are replaced for each damaged one, you can end up affecting a large portion of the roof. A patch is never as good as full, freshly installed roof. So if your roof ends up a patchwork of new and old shingles, not only will it look bad, but it may also fail again and your warranty may be void.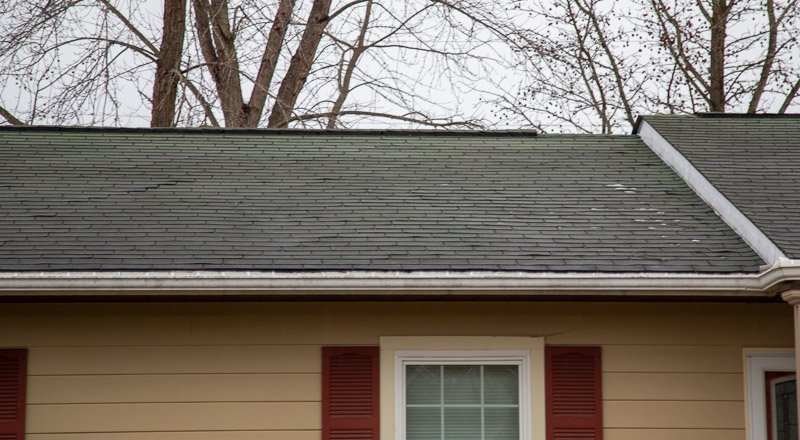 Hopefully, you called Cook Roofing Co to meet your adjuster, so that you don't have to figure this out on your own. But if you didn't, and insurance is offering a repair of 40 shingles, for example, you should have us come out and take a look. We'll do a free roof evaluation and let you know where you stand. If you need a new roof, we'll submit a thorough estimate to the insurance company for you.
What Types Of Wind Damage Does Cook Roofing Co Repair?
Obviously, we replace wind damaged residential roofing. This includes asphalt shingle roofs, tile roofs, standing seam and r panel metal roofs, wood shake roofs, flat roofs, and tile roofs. We also replace windows, doors, flashing, trim, fascia, soffit… whatever in your house or outside your house that is damaged, we can repair or replace it. We are a fully licensed general contractor.
We also do commercial work, even extremely large jobs that other company shy away from. Cook Roofing Company has repaired or replaced just about every type of commercial structure and roof you can think of, from retail and office, to agricultural and industrial, to multi-family condos and apartment complexes. We have re-roofed large restaurant chains across the country, and skyscrapers.
We understand the additional complexities of these big jobs, from safety, to codes, to insurance. Other companies may do some commercial work, but few have the experience Cook Roofing Co has.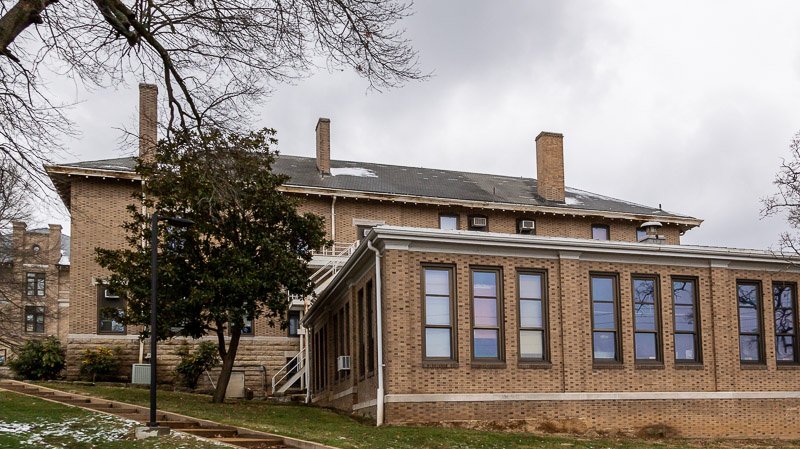 Contact Us For Assistance
When you're in need of roof wind damage repair in Springfield MO and Branson, or any one of the other areas we serve – Rolla, Bolivar, Lebanon, Rogersville, Nixa, Battlefield, Hollister, Republic, West Branson, or anywhere in-between – our roofing experts are ready to help. Contact us using the form on this page, or give us a call at (417) 334-4238 for more information. Let's get your roof back in to shape.