Last Updated on February 23, 2020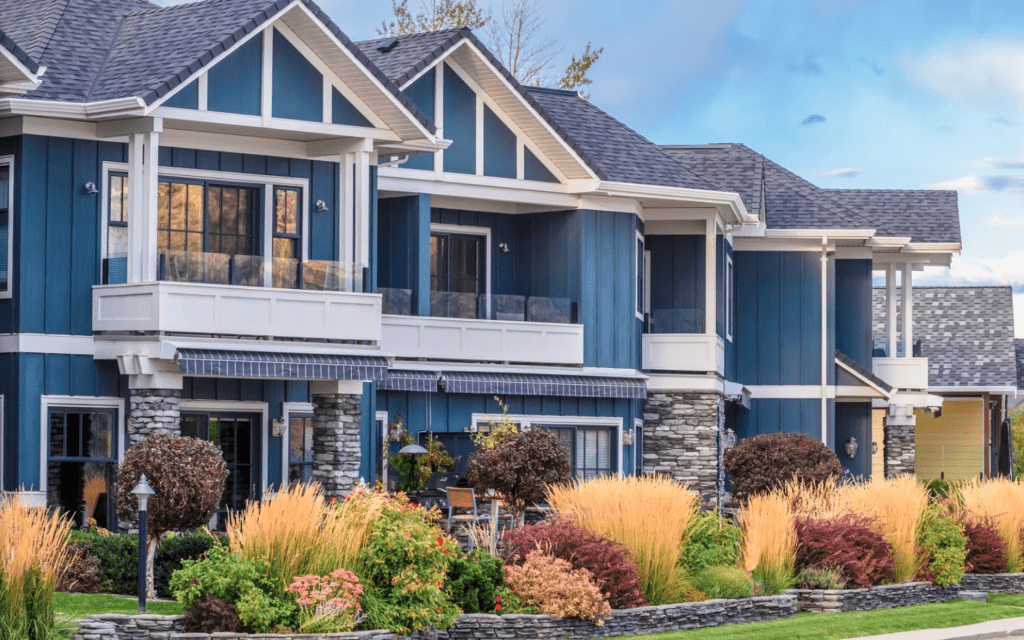 Roof Replacement or Repair?
Your roof is one of the most important systems in your home. It keeps out moisture, holds in heating or cooling, and generally protects your home from above. The roof covering, whether it's asphalt shingles, metal panels, clay or concrete s-tiles, single-ply membrane, or high-end slate tiles, is the front line of defense for this protection. All roofing materials have a lifespan. If your roof is at the end of its protective life, it may be time for replacement.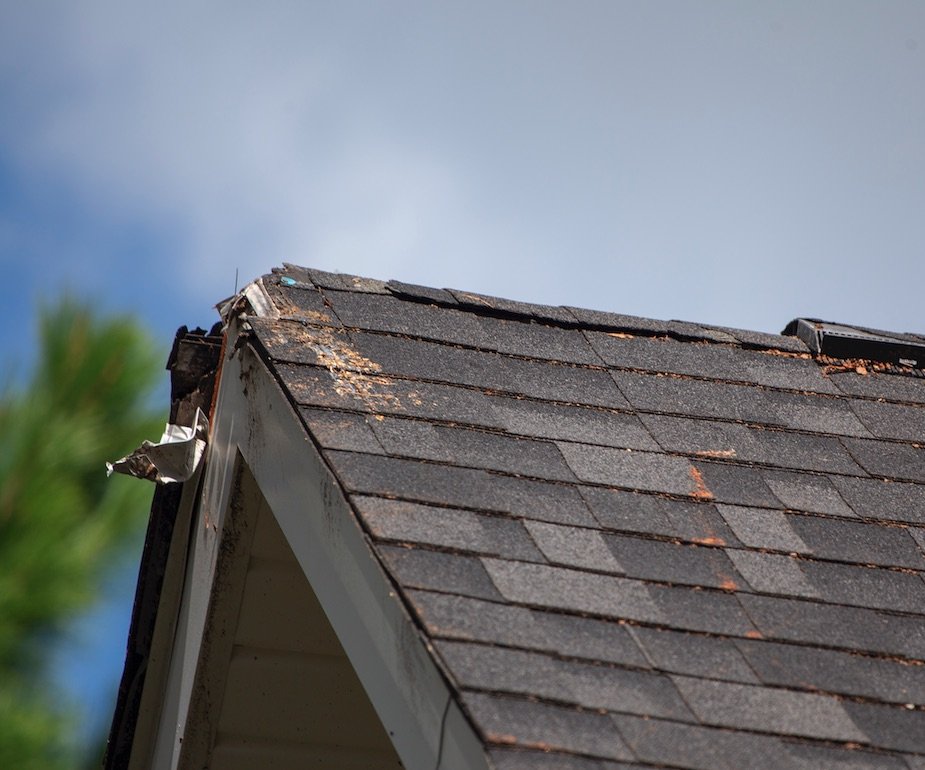 There are cases when all you need is a roof repair. For example, you may have a nearly new roof, but a squirrel chewed through the pipe flashing and caused a leak. Or maybe high winds tore off a few of the ridge cap shingles on an otherwise new roof. These things can often be repaired without compromising your roof system. But other times, such as a worn or hail damaged roof, or one where wind has lifted and torn shingle tabs all over the roof, the whole roof really needs to be replaced. This is because…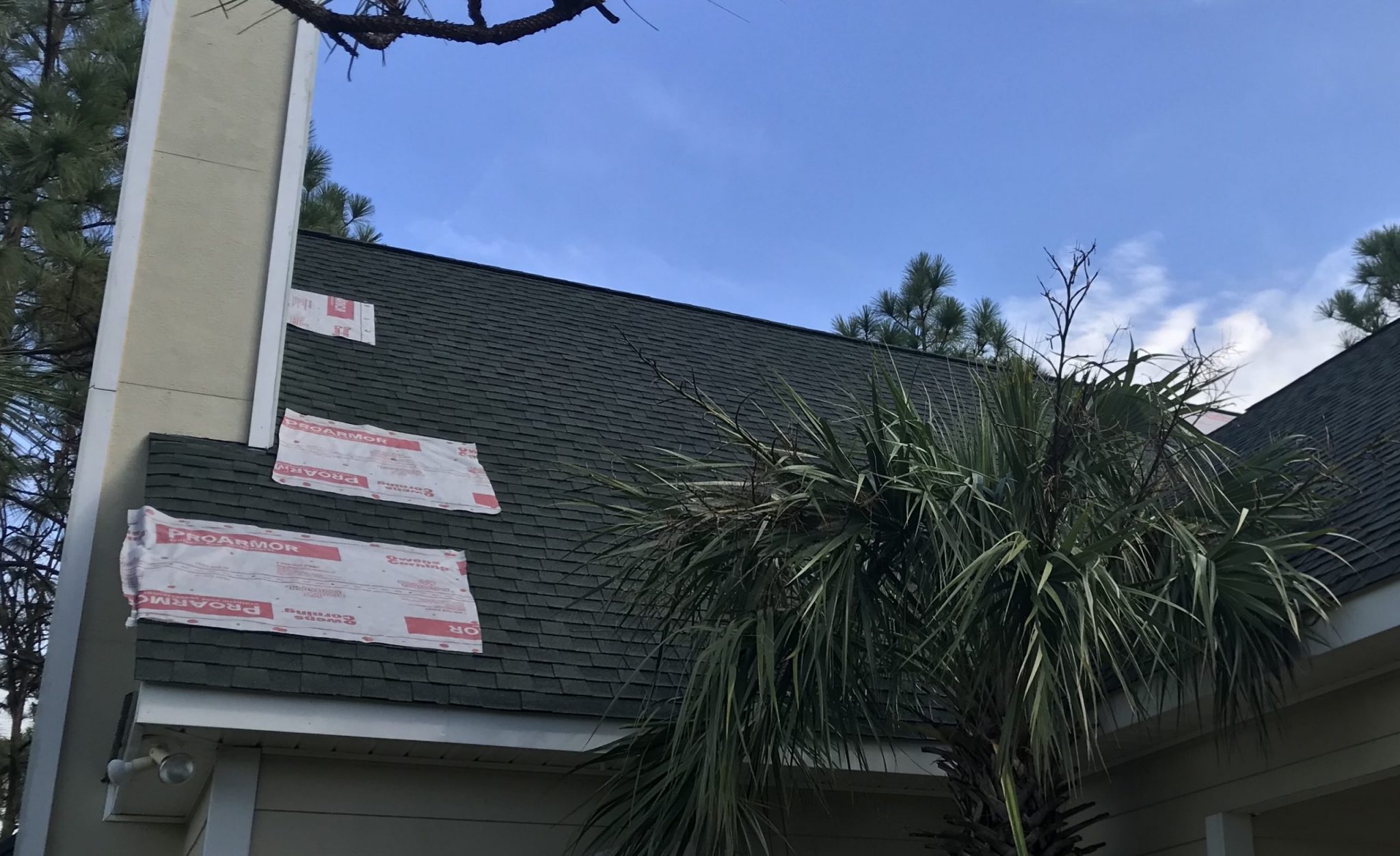 Your Roof is a System
Your roof is a system, not a patchwork quilt of parts. The components go on the entire roof, in layers. We take special care to ensure that water cannot get through to all the things underneath that must stay dry.
The felt underlayment should be nailed on with "cap" nails, which seal the holes that the nails make. The felt is overlapped from the bottom to the top of each slope in the roof, with special care taken in the valleys.
Then (on an asphalt shingle roof) shingles are nailed through this, and again each nail seals the hole it makes. Imagine what happens when you go pull a bunch of these shingles out. You can end up with felt that looks worse than swiss cheese, and certainly has lost all water shedding ability. Slapping some shingles over the top will hide this from view, but not from rain.
We Do The Job Right
Some roofers have no problem with doing the bare minimum. Cook Roofing Company, however, has vast experience in both roof replacement, as well as storm damage restoration. We have seen first-hand the damage that can be caused when some "jackleg roofer" patched up a roof that should have been replaced, doing the work for the $800 the insurance company offered at first. These homeowners sometimes end up with tens of thousands of dollars worth of damage, when the insurance company should have paid for the full roof replacement to start with.
The Cook Roofing Difference Starts with the Roof Evaluation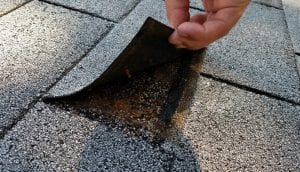 Cook Roofing Co will start with a thorough evaluation of your roof. If you'd like to read the details of what you get when we perform a free roof evaluation for your home, see this write-up. But in short… we pull a storm report for your address. Then we will check for storm damage (including hail damage that some adjusters even miss). We check for damage to flashings around roof penetrations and chimneys. We check the condition of the granules on the shingles (these protect the asphalt from harmful ultraviolet sunlight), and typical problems like shingle repairability, nail pops, loss of use of the mastic strips (the black adhesive strips that seal the overlapping tabs), etc. Other things we also check include drip edge, gutter attachments, condition of the roof decking, valleys, etc.
What If It's Storm Damage?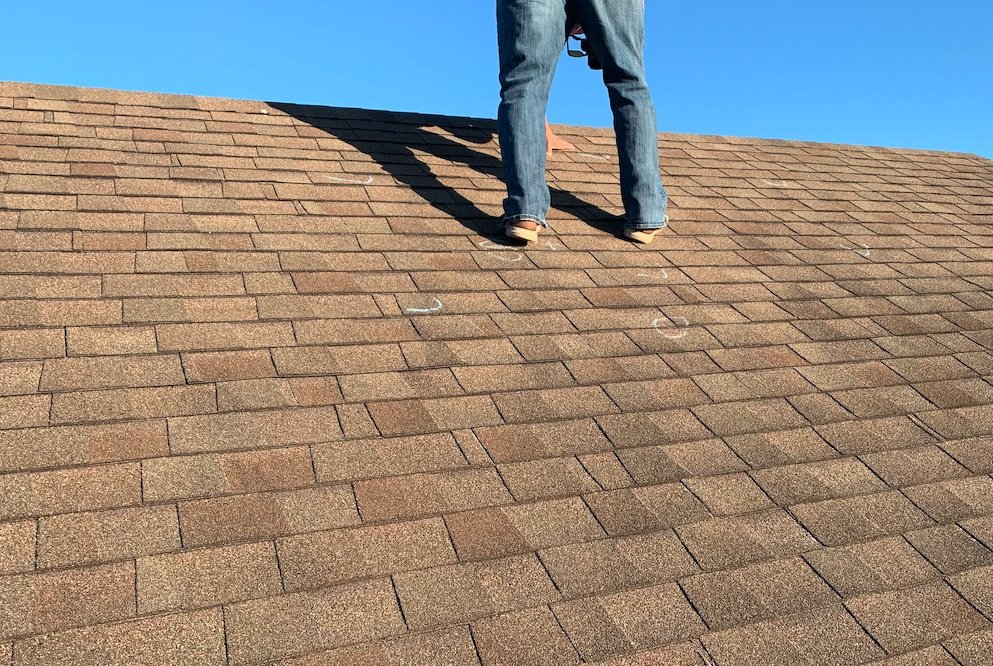 If we find storm damage (or other damage typically covered by insurance), we will determine the full scope of work that needs to be done to restore your home to the condition your policy covers. We have extensive experience working with insurance claims, and can help walk you through the process. See our page about storm damage here. We know that most homeowners' policies cover full restoration, and that many adjusters try to save the insurance company money by only including a fraction of the repairs actually needed on their estimate.
Sometimes You Just Need A New Roof
Even if you don't have storm damage, your roof may just be ready for replacement. Our free roof evaluation will help determine the condition your roof is in. But even if you are paying cash, or taking advantage of our financing options, did you know that a new roof is one of the most valuable improvements you can make to your home, in terms of restoring or adding value?
Many people just want to go with a durable asphalt, architectural composition shingle roof. But there are numerous other choices too, from standing seam metal, to tile roof options, etc. See our blog post about choosing the right roof here. No matter which you choose, though, we've installed them. Cook Roofing Co has replaced hundreds of roofs in this area, and chances are, we've replaced some of your neighbors' roofs.
What to Expect When Getting Your Roof Replaced
Once we have performed a thorough evaluation of the condition your roof, we can help you decide what your next steps are. This includes getting your insurance company involved when you've got storm damage. Read about storm damage and insurance claims for more information about how restoration works with the insurance process.
Of course, money is a factor, and a roof is a big investment. Insurance laws require us to collect a deductible for insurance work, but we have financing options for that too.
Price Match Guarantee
Regardless of whether insurance will cover the rest of the roof cost, or whether you need financing, we offer an "Apples to Apples' price match guarantee. We will provide you with a free estimate for the scope of work you want us to do. This will include the quality and items of materials needed to perform the work to our standards, backed by our lifetime workmanship warranty. If you receive an estimate with the same materials and scope, we will match that competitor's price. Contact us for details about that.
Roofing Materials Delivery
Once you've hired us for your roofing project, we will order materials. We will create an order based on the estimate, which will include all the supplies that need to be replaced. Shingles typically get loaded onto the roof with a boom lift, as long as there is enough access to the roof around your house. Drip edge, flashing, felt, ice and water shield, vents, and nails will be left near the house.
Roof Replacement Timeline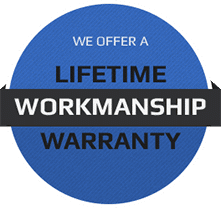 Some companies make a big deal about how they will install a "roof in a day." We understand that no one wants a project to drag out longer than necessary. But we also know that quality work can take time. We won't show up with 20 people and 13 trucks so they can trip over themselves trying to rip through your roofing project in a day. Some jobs may only take a day. Many, however, do take a day and a half to three days. How big and complex your roof is, and whether additional materials like decking need to be replaced, determines just how long the roof takes. If there are any issues that arise, we will bring these to your attention and address them properly. We won't "sweep them under the shingles" so to speak, just to meet some One Day Guarantee. That's just not how we do business. We do the job right the first time, and warranty our work.
Preparation Items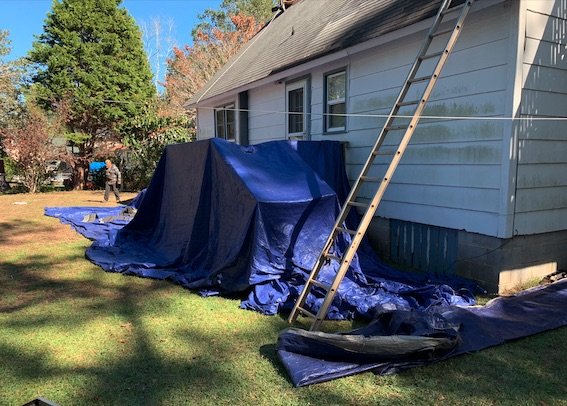 During installation, we cover and protect decks, landscaping, etc as needed. You also should be aware that when roofers are on your roof, there's a lot of banging and noise. It's a good idea to secure loose or valuable items on shelves and walls, and be aware that there may be dust falling. After all, this is a construction project. Ask us about our post-construction interior cleaning!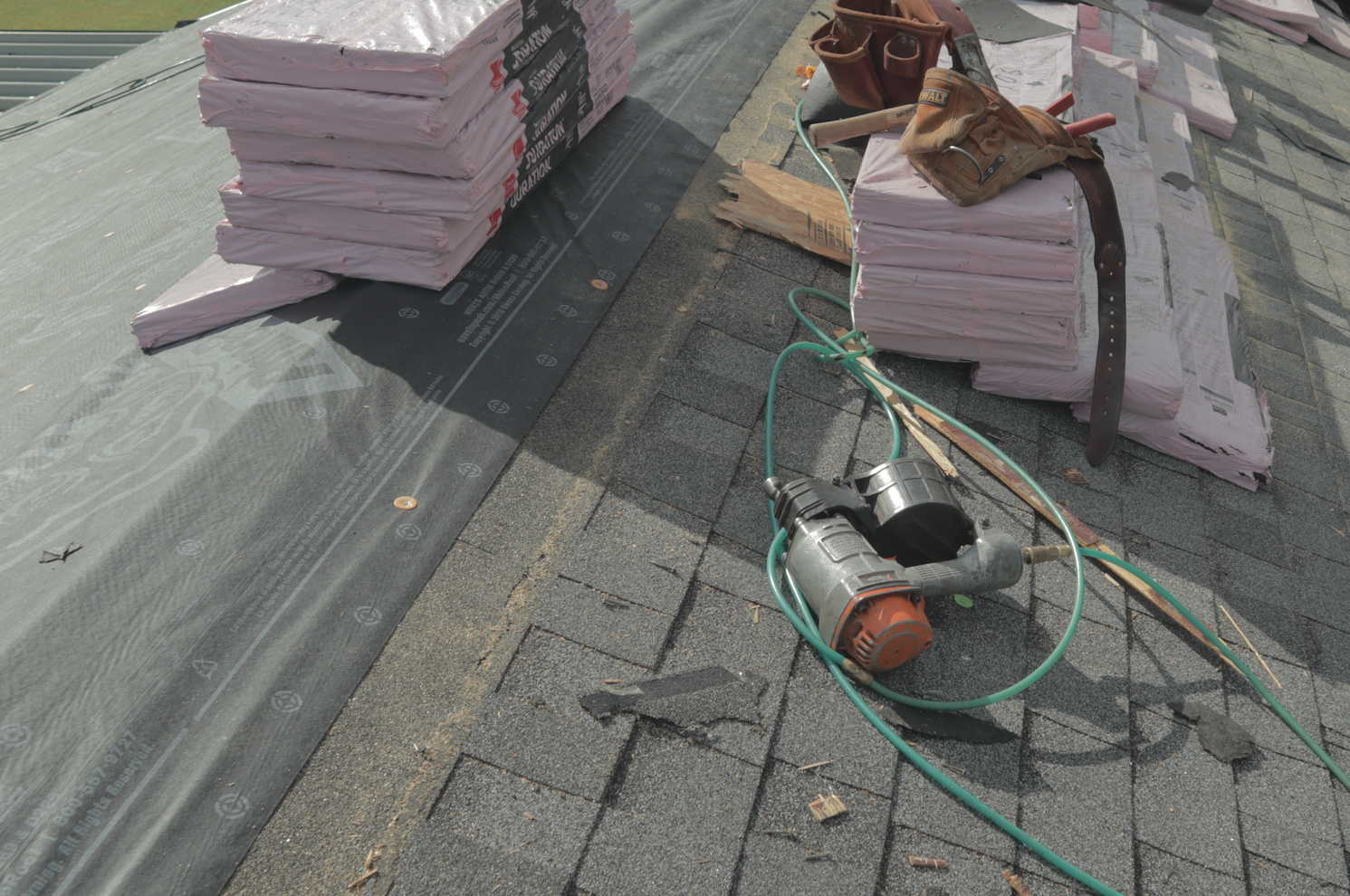 Our roofers remove felt, flashing, and nails to make sure that the roof deck (plywood) is suitable to hold your new roof. We will fix any water-damaged, rotting, or loose material. We typically work on half of the house at a time, doing full slopes. This way, if the work has to continue on a second or third day, we haven't opened up your roof to the weather overnight. (We also tidy up the job site before finishing each day, so your yard doesn't look like a tornado just hit. Unless, of course, there really was a tornado and the debris hasn't been cleaned up yet!)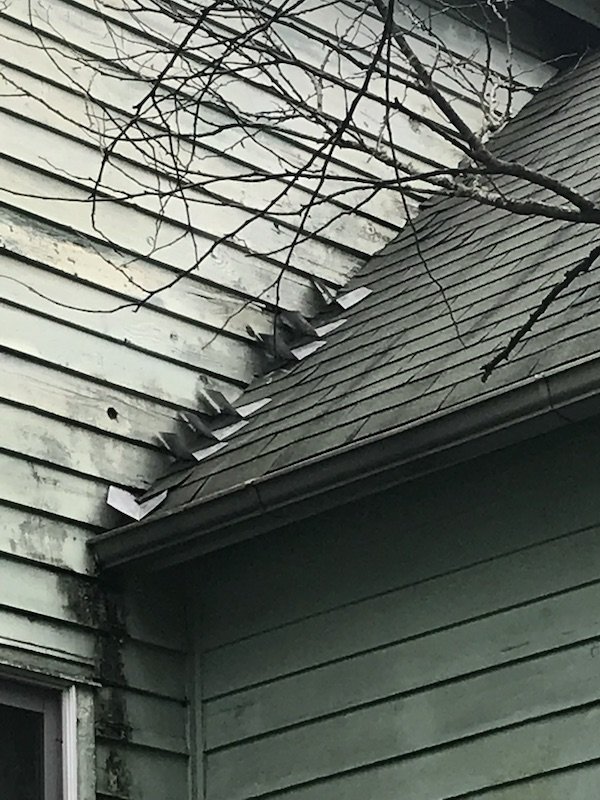 Flashing Replacement
Some cheaper roofing companies reuse metal flashing to cut costs. This isn't a good practice, though. Removing shingles usually bends existing flashing metal and leaves holes which once had nails through it, and it can be rusty. Overall, reusing flashing material puts your roof at risk of leaks in the most vulnerable places. We don't take that chance, and almost always replace all flashing (there are some exceptions, which we can discuss).
We install all the new felt, shingles, flashing, vents, and ridge cap shingles and trim them. Then we will clean up shingle and wrapper scraps and other construction debris. We'll put any grills, lawn furniture, etc. that we moved, back. And we will run magnets over your lawn to pick up nails – this gets 99% of the stray nails.
Let's Get Started On Your Roof Replacement
Cook Roofing Company is ready to assist you with your roof replacement project. We have decades of experience in construction and roofing. This means we know how to finish off your home with a new roof that you and your neighbors will admire. And what's more, you'll have peace of mind. No matter what weather is thrown at your house, you'll be safe and dry inside. To get the roofing process started, give us a call at (417) 334-4238 any time. Our team of roofing professionals is ready to work with you, to replace your old or damaged roof with one you'll truly be proud of.