Last Updated on April 17, 2021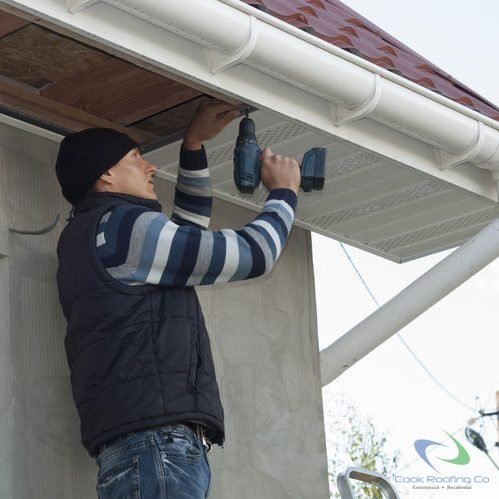 Possible Issues With Soffits & Fascia
Your soffit and fascia keep weather and wildlife out of the rafters and eaves of your home, and protect the edge of your roof. Wind events can lift, damage, and even remove soffits and can be torn off. It's important to get that damage fixed as soon as possible, before water and animals get to the unprotected areas. And if you've never had a squirrel in your attic – trust me, you don't want to. So if you need your soffit and fascia repaired, in the Springfield MO and Branson area, count on our expert contractors.. Cook Roofing Company can take care of all of these issues in no time. Give us a call to learn more at (417) 334-4238 today!
Gutter Damage, Replacement, and Repair
Your gutters collect rain and melt water, and carry it away from your roof and fascia. Gutters also keep rainwater from running under your foundation and causing additional settling. Damaged or improperly installed gutters and drip edges actually divert water to the very places it's supposed to protect – landscape, siding, soffits, and fascia. This can cause the formation of rot, leaks, or other damage that may not be covered by insurance, and may threaten the structural integrity of your home. It's important, therefore, to pay attention to any loosened items if high winds and debris affected your house during a storm. Conduct a roof inspection when necessary in order to catch problems in their beginning stages so they don't worsen. Here are some signs to look out for when you may need soffit & fascia repair for your home.
Water Infiltration
Mold
Mildew
Gutter Damages
Punctures
Material Missing or Torn/Displaced
Improper Installation
Cook Roofing Co has trained people who can fix your soffit & fascia in the Springfield and Branson area.
Soffit & Fascia Protection Tips
Even if you have new soffit and fascia, it's important to periodically check for changes and problems.
Make sure you keep the paint in good shape on wood soffits and fascia, for example. More than just good appearance, paint keeps the wood sealed and helps prevent rotting.
Another way to keep moisture out is to install or upgrade the material of your drip edges as these will direct water into your gutters and away from your soffit and fascia.
You could also upgrade the venting of your soffits which will keep humidity low. Consult with your Cook Roofing Co professional if you're not certain how changing the ventilation can affect the roof, and for advice on types of ventilation. Low humidity will prevent mold formation and help keep the shingles cooler. This is beneficial for all home systems, but especially older ones.
One last tip that can help with maintaining your soffit and fascia system is to keep up with your seasonal gutter cleaning. Be sure to do this after bad storms, or at the very least, twice a year. Ultimately, having a roof inspection conducted at least once a year can help in making minor repairs before they worsen to larger areas of roof damage. Cook Roofing Co can take care of maintenance checks and clean your gutters through a maintenance plan. Contact us to find out more!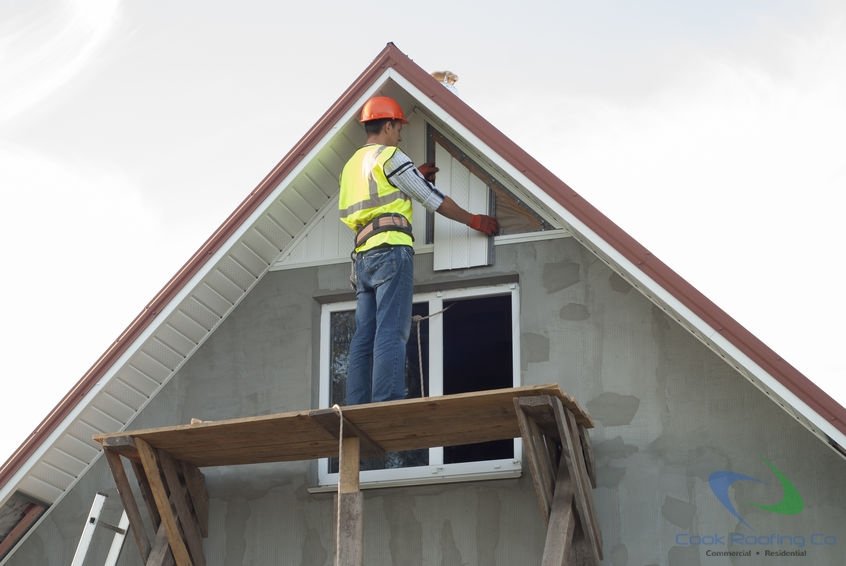 Contact Us For Support
Cook Roofing Company is here to assist you with any of your roofing emergencies. After a particularly bad storm, if you notice that your home has been damaged, contact us for assistance! We want to help you get back to where you are dry and secure again, and back to normal as soon as possible. If you have damage, call today to schedule an appointment for a free evaluation and estimate at (417) 334-4238. We back all of our projects with our lifetime workmanship warranty, for your peace of mind.