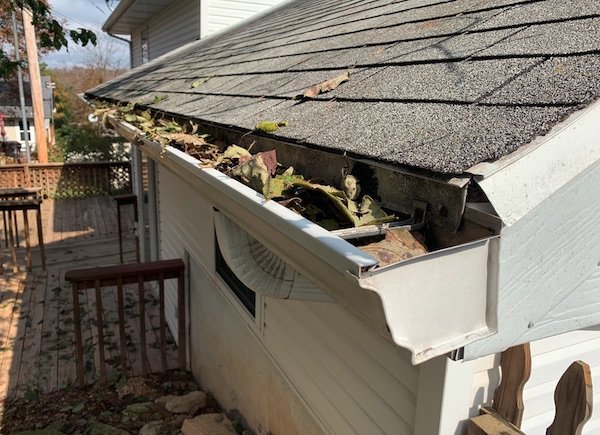 Everything You Need To Know About Gutters and Downspouts!
Have you ever wondered about the reason for roof gutters? There are two main reasons:
to move the rain water away from your building's foundation, and
to help control the flow of water on your property.
That's basically it. Other than that, the gutters and downspouts serve as a beautiful, decorative feature that enhances the look of your home or office building.
How to calculate the size of gutters needed, on your home or building
The easiest way to calculate the size of gutters and downspouts on your home or building is by using two primary factors:
the roof pitch and area – You will need to calculate the area (length x width) of each surface within a drainage (slope) area to get the total square footage amount.
the maximum rainfall Intensity number – here's a link to national weather to calculate your local rainfall intensity. http://hdsc.nws.noaa.gov/hdsc/pfds/index.html
Oddly enough it goes up to 1000 years.
Here's an example:
A house in Springfield, Mo has a roof whose actual drainage area is 1,000 square feet. The 5-in-12 pitch factor (1.1) multiplied by 1,000 yields an effective area of 1,100 square feet. Multiplying that number by the local maximum rainfall intensity (7.4 inches per hour) yields an adjusted square footage of 7,480 square feet. Therefore, this roof should have a 6-inch K-style gutter installed. Most gutters installed on homes in the US are undersized. This is just because of a lack of knowledge.
Most common gutter types
K Style 5″ and 6″ gutter with 2×3 and 3×4 downspouts.
Half-round 5″ and 6″ gutter. Typically these gutter types are made from copper, for a certain architectural look.
DIY Gutters – This is not recommended. Ever!
Common material used to create gutters.
Aluminum – most common
steel
galvanized
stainless steel
copper
wood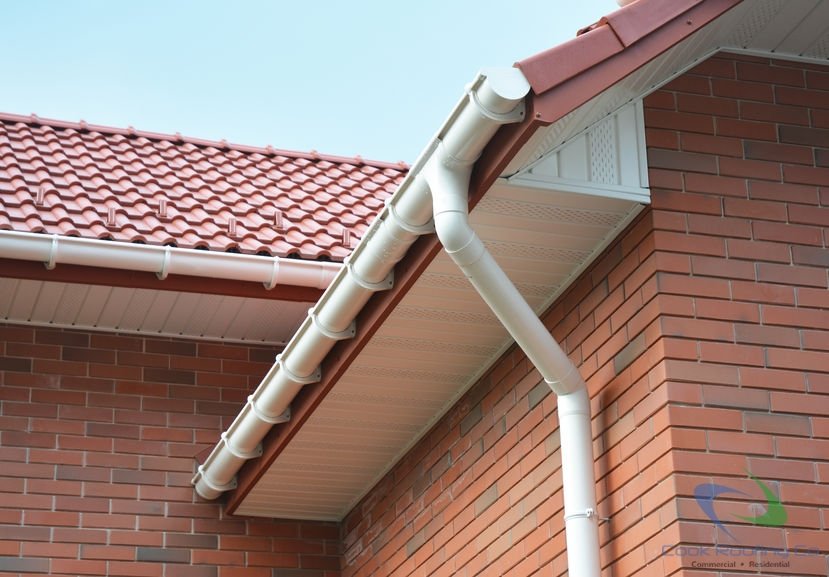 There are several options for gutter sizes:
5″-8″ can be roll-formed on location
6-8″ box gutters can be rolled on location
Most gutters bigger than above are typically custom made, for a specific use.
Most gutters are typically formed by using a roll forming machine that is portable and creates on location a seamless gutter that is precision fit. The advantages to a seamless gutter is less gutter maintenance and the potential of gutter leaks at the seams.
What slope should I use for my gutters
Great question, because it is recommended to be 1/4″ per foot. In some situations, a long run can cause a look you may not be happy with. Ultimately the preferred slope for gutters is for water and any debris to be easily discharged. If you have a good gutter guard system that keeps leaf and tree debris out of your gutters then you could probably get away with less slope per foot.
When do I need new gutter?
A good rule would be that if you have ongoing clogged gutters, gutter maintenance, and gutter cleaning every time it rains or snows, then it's probably pretty safe to plan on a full gutter replacement.
What will new metal gutters cost?
You could expect to pay $5.50 to $7.00 per foot on 5″ gutters and $6.50 – $9.00 for 6″. Also, understand that downspout is priced the same as gutter in most situations. The larger in size, the higher the price. Other factors would be access, complexity, and height.
Gutter Guards. Gutter Covers. Gutter Protection. Do I need it?
The answer to this is pretty simple. If you or your
immediate neighbors have tall trees, then you most likely need some type of
gutter guard system. Gutter Guards come in about every shape, style, and
product you can think of, from micro mesh to foam filters and everything in
between. The better the product the higher the cost, but that doesn't mean its
the best system for your property. It just means it costs more.
If you are considering new gutter guards, and want a free estimate by a qualified installer to replace your gutter screen or downspout extensions, then give us a call today. We sell rain gutter by the linear foot, and we never sell more than you need. It is easy to mess your roof and gutters up when not properly installed by a professional installer. Don't be that guy who always has a leak at the front door. Call us today.
Cook Roofing Company has been installing, fabricating, cleaning, restoring, painting, and all points in between on all kinds of gutters. If you need new gutter or gutter repair, then give us a call. Heck, if you buy a new roof from us, we might even throw in a new set for free, but you have to ask.
Maintaining your gutters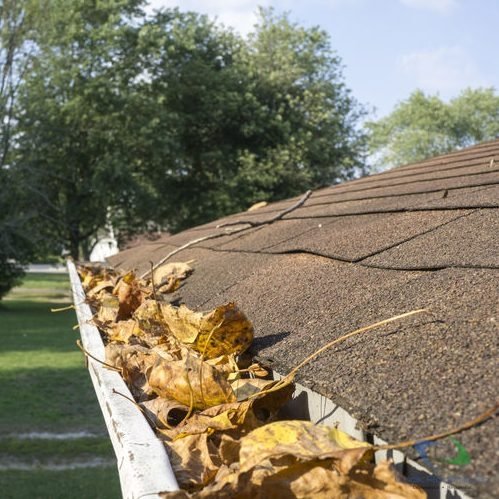 When leaves accumulate like the photo here, they can clog the downspouts, completely defeating the purpose of having gutters. In fact, water can overflow behind the gutters, or through the mounting points, and cause your fascia to rot. Overflow water can run down the side of the house, flow under the house and cause uneven settling (one of the biggest causes of cracked drywall from settling in this area). Therefore, it's important to keep up with gutter maintenance by it through maintenance cleaning or checking for gutter repairs. If you need your gutters repaired, and you're in the Springfield MO and Branson area, contact our professionals for a free gutter evaluation. Cook Roofing Co will do a thorough evaluation of the condition of your gutters, as well as underlying fascia, soffits, siding, and your roof, see if you have damage from storms to determine if an insurance claim might help, and get you a free estimate. Talk to our friendly staff members at (417) 334-4238 to learn more.