Last Updated on December 7, 2023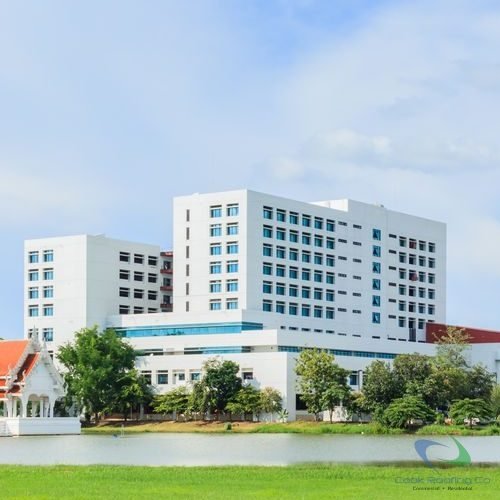 Get A Secure Roof
Hospital and healthcare buildings are important properties that cover imperative tasks being conducted inside by caretakers for patients. It's important to maintain a system that won't draw away from the day to day tasks of providing care with a strong roofing system that holds its integrity, no matter the outside conditions. In order to have a properly working roofing system, it's important to conduct annual roof inspections and maintenance duties such as roof washing in order for your roof to maintain its good condition. Cook Roofing Companyhas the tools and experience to provide your property with the proper protection it deserves. For hospital roof repair in Springfield MO and Branson call us at (417) 334-4238today!
Types of Roofing
With sloped roofing, you can benefit from premium roofing materials that protect against such impacts as hail and strong winds. With a cool roof, you can have the added benefit of lowering HVAC costs by having the ability to cool a building's temperatures by reflecting the sun's damaging rays. If your building is flat, consider single ply roofing materials that can assist with roofing structure. Single ply roofing has components that can expand and contract with temperature changes as well as avoid the damages of cracks forming due to this ability. Having flat roofs without seams or with weatherproofing abilities can be essential. For sloped roofs tightened connections as seen with metal roofing can increase water protection from infiltrating underlying roofing materials. Here is some example of roofing choices available for your healthcare facility.
For more information about what materials would work best with your roof, our skilled roofers are ready to help! If you'd like a hospital roof installation in Springfield MO and Branson count on us for a quality roof!
Contact Us For More Information
Improve the integrity of your hospital's roof to ensure that all occupants will remain safely inside and protected. When you're in need of hospital roof repair in Springfield MO and Branson rely on the professionals here at Cook Roofing Company. With over 30 years of roofing experience, you can bet that your roof will be supported with our upgraded techniques and materials. If you have any questions give us a call today at (417) 334-4238.