Last Updated on January 12, 2020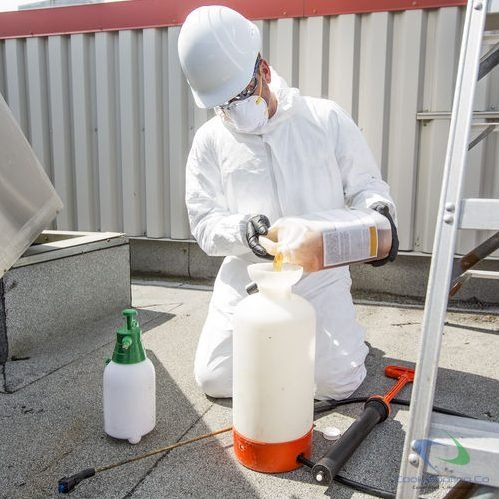 The Benefit of Clean Roofs
Maintaining a clean commercial roof can assist your building in not only maintaining a clean exterior, but it will also assist in steady overall building temperatures. Over time, your roof will naturally build up dirt, debris and other contaminants. If left sitting or unattended for too long, you may see the growth of algae or moss. It's therefore important to call upon the services of commercial roof washing in Springfield MO and Branson whenever dirt and other contaminants have accumulated. Cook Roofing Company has years of experience with commercial roofing and will be happy to get your roof back to spotless shape! Give us a call at (417) 334-4238 to speak with a friendly representative.
Why You Should Clean Your Roof
Getting your commercial roof washed is essential to maintaining clean systems and preventing the build-up of such things as dirt, moss, or mildew, which could negatively impact your roof. With certain cool roofing substrates, cleaning is essential in maintaining the reflective properties of the roof and maintaining lower building temperatures. With commercial roof washing, you can expect that environmentally-friendly solutions will efficiently break down mold, algae, and dirt. High-temperature pressure washing will rinse away contaminants and create an enhanced, clean new finish. By the time we're through, your roof will not only look great but will have enhanced reflectivity and performance for the roofing membrane. Here are some benefits of commercial roof washing.
Increased Reflectivity
Lower Building Temperatures
Cleans Dirt, Moss, Algae
New Clean Finish
Environmentally Friendly Solutions
Ask more about our commercial roof cleaning services in Springfield MO and Branson today! We're happy to strengthen your roof's protection with our commercial roof washing services!
Contact Us Today For A Cleaner Roof
It's recommended to get your roof inspected before we begin our services, so we can properly see what steps need to be taken for your unique roof's characteristics and conditions. Benefit from our commercial roof washing in Springfield MO and Branson with our qualified servicemen at Cook Roofing Company. Whenever you have any questions regarding your commercial roof we'll be happy to guide you! Our number is (417) 334-4238, call us at any time!