Last Updated on February 23, 2020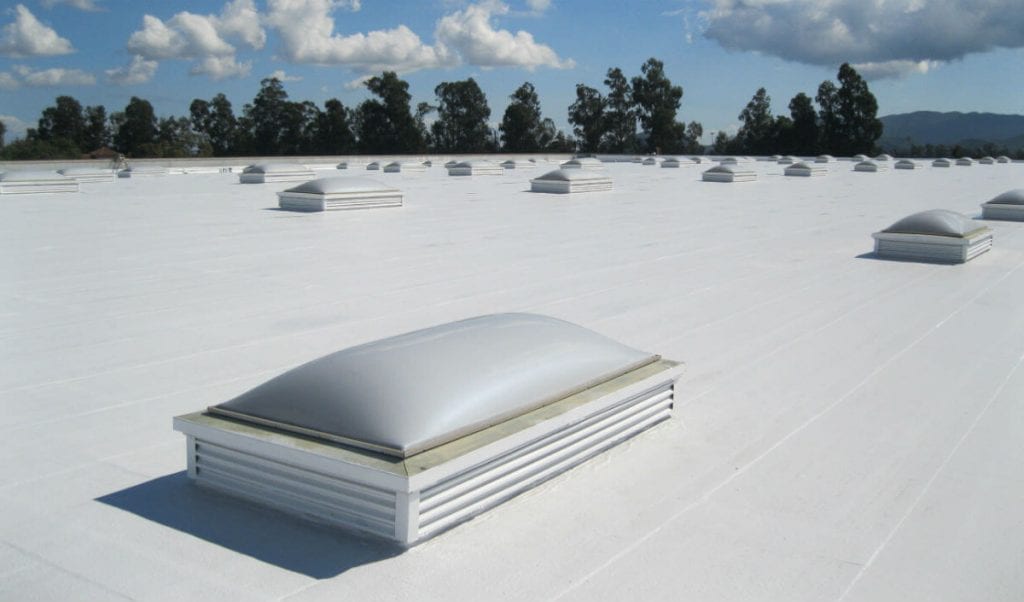 What is Single Ply Roofing?
Single ply roofing describes a group of popular flat roof materials, also called rubber or polymer membrane roofing. It is typically a synthetic rubber like EPDM, or thermoplastic like TPO or PVC membrane. They are waterproof, durable, and resistant to fire, chemicals, UV light, and the elements.
What options are there for flat roofs?
Besides single-ply roofing, the other common types of flat roofs are BUR or built-up roofing and modified bitumen roofing. BUR roofs are some of the most durable, but are messy and labor intensive. BUR consists of hot-mopped asphalt, installed in layers with fabrics and often topped with gravel or aggregate. Modified bitumen, or roll roofing, uses roofing asphalt with layers of fiberglass, polyester, or other materials added for strength.
What are the advantages of single ply roofing?
Single ply roof installation has several advantages over built-up roofing:
It's lighter in weight than other types of flat roofing, putting less burden on the roof structure.
Single ply is more resistant to chemicals.
Ease of installation – it doesn't involve hot asphalt or torches during installation.
Some types are fire resistant.
The materials can be recycled, so it's more environmentally friendly.
Light colors and cool, reflective surfaces are available, which can help keep the interior cooler, and is therefore more energy efficient.
Quality control can be handled in the factory instead of during installation, leading to more consistent installs.
Single Ply Options
The two groups of single ply membranes are thermosets and thermoplastics. Thermosets are a rubber material that are installed using tape or contact cement to join them together, but not heat, because heat will change their properties. They typically come in large sheets to minimize joints.
Thermoplastics can be hot-air welded, and so generally come in easier to work with rolled strips. They are membranes that are usually made with a reinforcement layer like fiberglass to strengthen them.
Thermoset membranes
EPDM Membrane Rubber Roof Repair and Installation (Ethylene propylene diene monomer rubber) is the most common type of thermoset membrane.
Thermoplastic membranes
PVC Membrane Roof Repair and Installation (Polyvinyl chloride) – a thermoplastic roofing membrane made from various chemicals and PVC resin, and is naturally fire retardant. Read more about this type of roofing material in the link above.
TPO Membrane Roof Repair and Replacement (Thermoplastic polyolefin) – blended polymer membrane that includes many peel and stick options for easier installation. Click the title for more information about TPO polymer roofing.
Other options for single ply roofing
These roofing materials can be fully adhered (using adhesives or peel-and-stick), or mechanically attached (using fasteners). Some types are glued and installed cold, and other types are seamed using hot air seaming tools. And while some come in darker colors, white is usually available, to provide better heat reflection and help with energy efficiency.
You can read more about single-ply roofing here.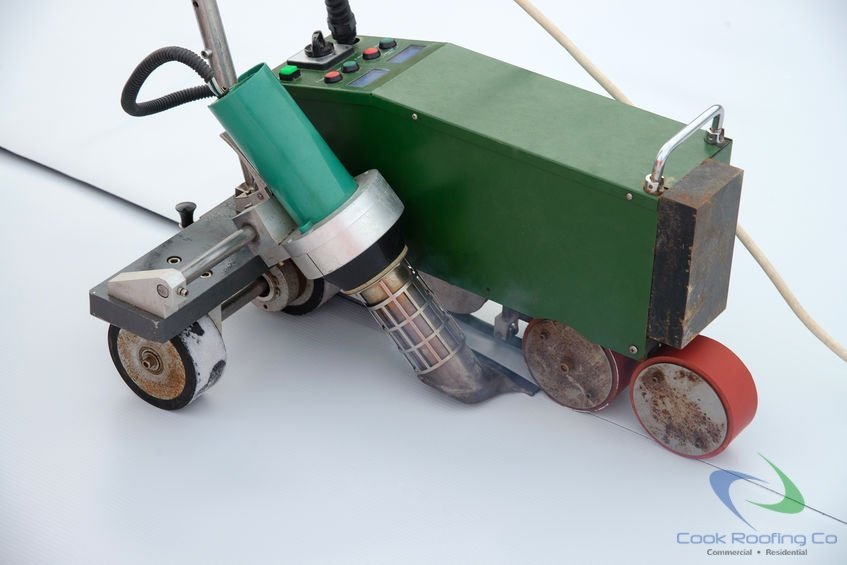 Contact Us Today To Get The Most Out of Your Roof
Cook Roofing Company can walk you through the roofing process, so you can make informed decisions about your roof. With over 100 years of experience in the company, and over 30 years of personal experience, you're in good hands with us. We offer a Lifetime Workmanship Warranty and an Apples to Apples price match guarantee.
We'll start you off with a personal visit and a roof inspection, so we can determine the extent of the issues and what measures are needed to repair or replace your roof. If needed, we can do core samples and infrared inspections, in addition to visual inspection. With a single ply roof installation in Springfield MO and Branson, we guarantee you'll be satisfied with your roof's performance for years to come. We'll be more than happy to discuss your options at (417) 334-4238 today!