Last Updated on December 7, 2023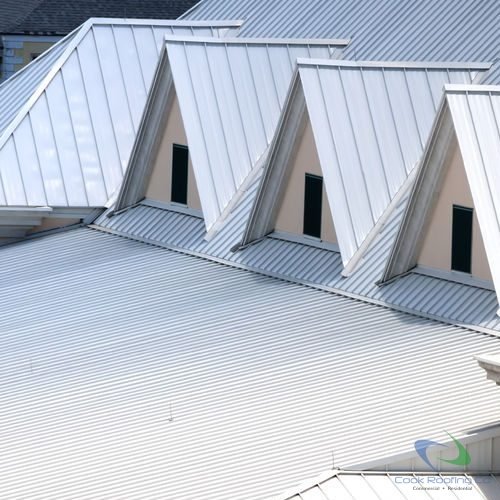 Protect Your Roof From the Sun
Your roof is a complex system that can be affected by weather and heat. Believe it or not but your roof has an overall temperature that can affect the productivity of your HVAC system. In order to save on bills and conserve energy on your heating and cooling consider the solution of a reflective coating installation in Springfield MO and Branson. Cook Roofing Company has the resources to help you achieve a cool roof and you'll be glad you made the change! Contact us at any time at (417) 334-4238.
Benefits of Reflective Roof Coatings
A reflective coating works by acting as a barrier to the sun with high solar reflectivity. What this means is that the roof will have the ability to reflect UV and infrared wavelengths from the heat of the sun which will lower the temperature of a building. This will lead to higher thermal emission which basically means having an ability to radiate absorbed or non-reflected solar energy. A reflective coating increases your roof's durability and reduces urban heat island effects and reduce cooling loads. Metal roofs or single ply roofing typically come with this ability as do other materials with the advancement made in recent years. Reflective coatings are typically due to the lighter shades of color of roofing materials or from being white. Reflective roof installation is now more varied and can now be possible with roof products that are developed beyond roof coatings. Here are some benefits of the reflective roof coating installation listed below.
Blocks Sun's Light/Rays
Reduces Building Temperatures
Lowers Monthly Utility Bills
Protects Against Premature Wear/Age
Available With Roofing Materials, Coatings or Membranes
If you'd like to know more about reflective coating installation than contact us today! We'll also be able to assist you with any cool roof repair in Springfield MO and Branson as well.
Contact Us Today
Benefit from the implementation of reflective coating installation in Springfield MO and Branson. We have trained professionals that will be happy to assist you in securing your roof! Be sure to implement a roof inspection so you can ensure that your roofing system is always functioning properly. Cook Roofing Company holds an emphasis on quality work and is happy to answer any questions you may have. Give us a call at (417) 334-4238 to learn more.