Last Updated on February 23, 2020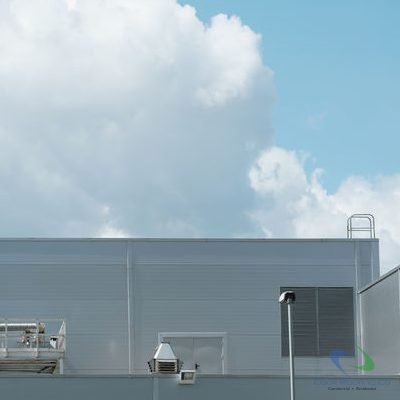 Increase Your Roof's Protection
Your industrial roof is an important system that will protect the industry that you're providing to the market. As with any flat roof, it's important to add protection when necessary so the roof can experience a long and healthy life. If you're interested in industrial roof coatings in Springfield MO and Branson contact our knowledgeable staff! Cook Roofing Company has years of experience in assisting with roofs and can ensure your roof is one with strength and integrity! Give us a call at (417) 334-4238 today.
Deflect Weather & Contaminants
Industrial roof coatings can prove to be very helpful in maintaining the strength and protection of your roof. Oftentimes, industrial roofs will need to implement protection against such infiltrations as grease, oils, chemicals and more. With industrial roof coatings, you can ensure protection from the damages and premature wear these exposures can create. Other ways in which an industrial roof coating can assist with your roof's protection is with their ability to protect against inclement weather such as rain, hail, and high winds. Protect your system from the changes in weather and temperatures with a flexible roof coating that can adapt and prevent the onset of cracks and roof warping. What's more, with reflective coatings you can enjoy lower energy bills from the decreased building temperatures! We offer services to Apartment Complexes & Multi-Family, Agricultural Buildings Roofing, Hospitals & Healthcare Roofing, Church Roofing Replacement, Shopping Centers & Office Building Roofing Contractor. Here are some industrial roof coatings that may prove useful for your property.
When you're interested in industrial roof coatings in Springfield MO and Branson contact our staff for help!
Contact Us For More Support
Get the most out of your industrial roof by getting it protected from the impacts of weather and everyday wear. When you're interested in finding what type of coating will work best with your roof's membrane get a roof inspection service with our trained roofers. Only with trained professionals will you be able to enjoy the right solution to your particular roof's specifications and characteristics. To learn more about industrial roof coatings in Springfield MO and Branson call our friendly staff members with Cook Roofing Company today. We look forward to speaking with you at(417) 334-4238!