Last Updated on January 12, 2020
Flat Roof Coatings in Springfield MO and Branson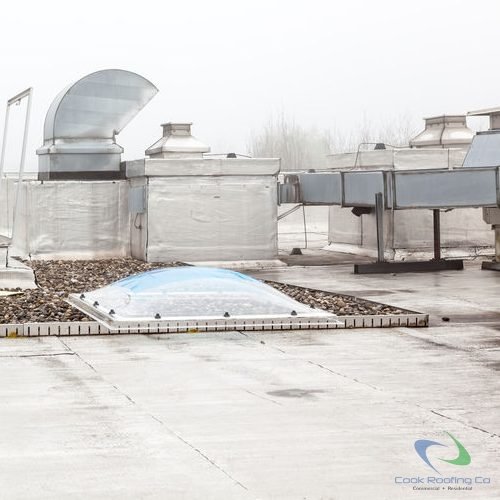 Increase the Protection of Your Flat Roof
Flat roofs are systems that offer protection to many businesses and industries! Although they hold fairly well on their own, certain roof coatings can assist in adding protection for increased longevity and performance. When you're interested in flat roof coatings in Springfield MO and Branson we're happy to assist you. Cook Roofing Company will be happy to guide you through your options so you can get the flat roof coating that matches the best with your particular roof's characteristics. Give us a call at (417) 334-4238 today!
Flat Roof Coating Benefits
Flat roof coatings are essential in maintaining the integrity and protection of your roofing materials. With a flat roof coating, you can create a thicker membrane with more layers which can more readily protect it from everyday wear and foot traffic. Some coatings even have reflective benefits that can cool your roof and lower temperatures. This not only will conserve energy but it will lower energy costs! Some types of flat roof coatings can fill in cracks, seams, and other minor damages by implementing their roof restorative abilities. As of such, you can prevent the formation of future wear and tear with materials that are able to adapt to temperature changes by expanding and contracting. There are many benefits to applying flat roof coatings! Depending on the type of underlying roofing materials you have there will be a roof coating solution for your property! Here are some types of flat roof coatings that may prove useful for you!
Increase the protection of your flat roof with flat roof coatings in Springfield MO and Branson!
Contact Us For More Information
If you'd like to know which flat roof coating will match the best with your system be sure to get a roof inspection to gauge the specifications of your roof. When you're in need of flat roof coatings in Springfield MO and Branson we're here to help. Cook Roofing Company has decades of experience in the roofing industry and will be more than happy to assist you with your roofing project. For more information be sure to give us a call at (417) 334-4238.