Last Updated on January 12, 2020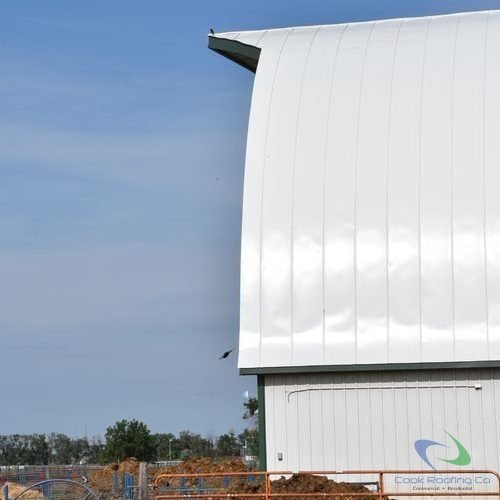 Renew, Repair, or Replace Your Agricultural Roof
Agricultural buildings have been incorporating metal roofs on many types of systems, from barns to facilities. Incorporating a metal roof into your rural setting can have your roof last for 50 plus years! Get the improved stability and durability of an agricultural metal roof installation in Springfield MO and Branson. Cook Roofing Company has decades of experience in providing proper roofing materials to different types of roofing specifications. To benefit from a roof inspection to see what would work best with your roof give us a call at (417) 334-4238 today. We'll be happy to discuss options with you!
The Benefit of a Stable Roof
When you're looking for a protected roof for your barn than rely on the various benefits of metal roofing. For decades metal roofing has been incorporated into rural settings be it for animal shelters, sheds, barns, farmhouses or agricultural buildings. Installations are quick and easy to maintain due to their lightweight which makes future repairs quick and easy. Get your roof protected from inclement weather such as rain, hail, high winds, and snow. With a metal roof, you won't have to worry about water infiltration as metal roofing has the benefit of tight and secure connections that can keep water out. They also have the added toughness that can protect against debris impact as well!
Get an improved roofing system with an agricultural metal roof installation in Springfield MO and Branson. Our roofers are ready to help you!
For More Information, Call Us Today!
When you're looking for increased protection for your roofing system benefit from the advent of a professional roofer who knows what solution will match with what roof. As with all roofing, there may come a time when repairs or replacements are needed be it through the age of materials or nature. For agricultural metal roof repair in Springfield MO and Branson, you can count on Cook Roofing Company. With a roof inspection, we'll be able to determine the weakened areas of your roof, extent of damages and provide reinforcement and stability to get it back into good condition. Give us a call at (417) 334-4238 today. We're more than ready to provide you with answers whenever you have any questions!