Last Updated on February 23, 2020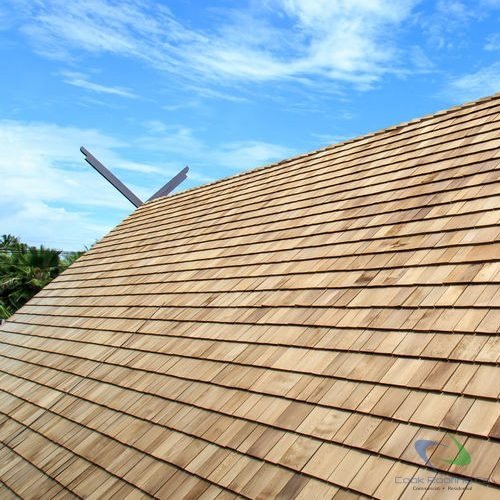 Rustic Look Without The Risks of Real Wood Shake
Cook Roofing Company is ready to provide you with a roofing material that is both attractive and highly protective. With a synthetic shake shingle installation in Springfield MO and Branson you'll be able to benefit from the rustic look without the extensive maintenance and risks of authentic wood roofing materials. A synthetic shake installation will be able to protect your roof for decades to come. Simply give us a call at (417) 334-4238 to learn more. We'll be happy to guide you through the roofing process!
Get An Attractive Roof
A synthetic shake shingle installation is an environmentally friendly composite roofing material that actually has a higher roof life and added protection than an authentic wooden shake roofing material. With a synthetic shake shingle, you'll have less than 2% moisture absorption which protects from cracks, breakage, rot, peeling, and blisters. High moisture protection can prevent insect infestation, mildew, and mold formation. There are Class A and Class C fire rating options which can assist in stopping the spread of external fires. They come in Class 4 impact resistance ratings which protects against large hail and high winds. It can come in various thicknesses and have a split wood texture that mimics authentic wood, there are also different color combinations for an added style! Here are more benefits to a synthetic shake shingle installation.
Class 4 Impact Resistance
Class A or C Fire Resistance
Moisture Resistant
Various Colors
Various Thicknesses
Composite Roofing
50 Year Roof Life
When you're in need of a synthetic shake shingle replacement in Springfield MO and Branson count on our expert roofers. You can get localized repairs with our comprehensive roof inspections!
Give Us A Call For More Info.
Cook Roofing Company has the experience and tools to secure your roofing projects. With decades of roofing experience, you can expect a job well done with exceptional end results. If you'd like to know more about the benefits of a synthetic shake shingle installation in Springfield MO and Branson we'll be ready to discuss them with you. Our helpful staff is ready for your call at(417) 334-4238. Get an attractive rustic roof aesthetic today!