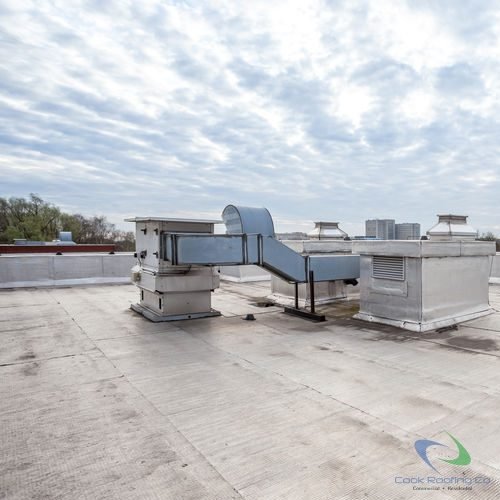 Get Flat Roof Assistance
Flat roofs are systems that provide great support and reliability for commercial and industrial roofing systems. Cook Roofing Company is experienced in various types of roofing characteristics and specifications and will be ready and able to assist you with any of your flat roofing problems. When you require assistance with flat roofing in Springfield and Branson, MO rely on our professionals. Call (417) 334-4238 for more information!
About Flat Roofs
Flat roofs are a popular option for many commercial and industrial properties as they reduce the volume on the building and thereby lower energy costs. They can be green roofs with their reflective properties which also assist in lowering the overall temperature of the building. They can even be used for the placement of HVAC systems, roof gardens, or patios. With your flat roof, you may need to keep an eye out for any potential water damages or conditions that could compromise the membrane of the roof. A simple flat roof repair for regular wear from the sun as well as minor leaks can be fixed with a roof coating. If there are multiple leaks or waterlogged insulation than flat roof replacement will be recommended as at this stage the integrity of the building is compromised. With waterproofing membranes, you can see your roof protected for 20-30 years. It's important to conduct regular maintenance and roofing inspections in order to keep up to date with windblown debris, dirt, or any other damages at their beginning stages before they escalate. Here's how we can better fulfill your roof!
Single Ply Roofing
Cool Roofing
Roof Coatings
Waterproofing
When you're in need of flat roof repair in Springfield and Branson, MO contact our team today!
Call Us For More Assistance
No matter your flat roofing needs, from repairs to flat roof replacement, we've got solutions that can be of help. Cook Roofing Company is ready for your call and will be able to guide you through your flat roofing options in Springfield and Branson, MO. With our emphasis on providing quality care, we make sure all of our clients are receiving only the best with our roofing services! Give us a call at (417) 334-4238 to see how we can get your roof strong once more.