Last Updated on December 7, 2023
PVC Roof Repair & Installation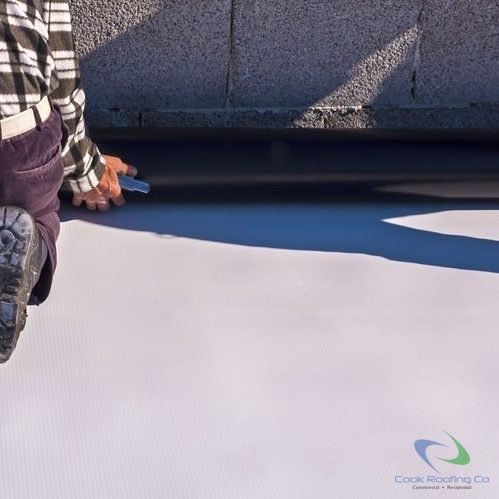 Increase Roofing Durability
Besides TPO roofing, PVC is one of the most common thermoplastic single-ply roofing membranes. This type of roofing material is great for protection and providing waterproofing abilities for your property. When you want PVC installation in Springfield MO and Branson rely on our quality roofing professionals! Cook Roofing Company has trained professionals that are equipped with the tools and processes to provide a roof with exceptional protection. Learn more about how we may be of service to you by calling our number at (417) 334-4238.
Basics of PVC Roofing
A PVC roof is made of polyvinyl chloride and is reinforced with polyester, glass fiber mats or scrim that can be used on both flat and low sloped roofs. PVC sheets typically contain stabilizers and plasticizers along with other additives that provide flexibility from changing temperature conditions. This type of roofing material can be ballasted, fully adhered or mechanically attached. Sheets are typically 6-12 feet that are 45-90 mils thick. PVC roofing comes in various colors yet white and gray are the most common choices. As far as protection goes, this type of material is superior in that it covers most risks of wear. Namely, it can protect against fire, water infiltration, chemicals, and high winds. Its high solar reflectivity make is a green roofing option that can assist in cooling building temperatures and lower energy waste. Here are other ways PVC roofing is a superior roofing option.
10-50 Year Roof Life
Flexible
Contracts & Expands
Reflective
Weather Resistant
Fire Resistant
Chemical Resistance
When you are in need of PVC roof repair or PVC roof replacement in Springfield MO and Branson contact our trained professionals. Our roofers are experienced with a variety of roofing inconsistencies and will be able to determine how to best fix your roof!
Contact Us For More Information
When you're curious as to what roofing material will work best with your property, consider a roof inspection. Not only will we be able to gauge your roofing characteristics and specification, but catch problem areas in their beginning stages if present. Cook Roofing Company has decades of experience in the roofing industry and can provide you with a stable roof that will add to its integrity. For PVC roofing in Springfield MO and Branson count on us. We'll be happy to discuss roofing options with you at (417) 334-4238 at any time.