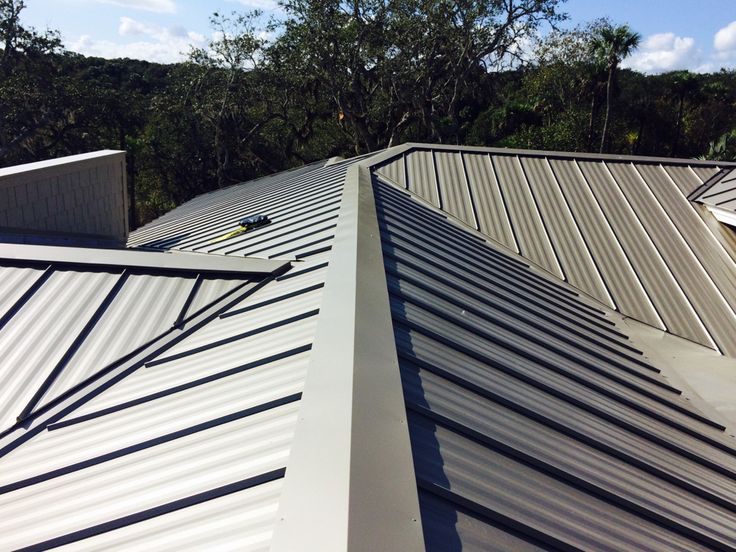 Why would you want to upgrade to metal roofing?
Metal roofs offer many advantages over more conventional roofing materials like asphalt shingles and cedar shake. Some of these advantages include a longer lifecycle than conventional roofing materials like asphalt shingles and cedar shake, better fire resistance, and better durability against harsh weather like hail, heavy rain and snow, and high winds.
Advantages of Metal Roofing
Longevity
One of the top reasons people choose metal roofing is for longevity. The useful lifecycle of metal roofing materials is much longer than asphalt. A metal roof will last 50-75 years when properly installed, and require very little maintenance. Using Kynar or Hylar finishes helps protect against chalking and color fading over the metal roof's lifetime. Even though the initial cost of a standing seam roof is generally more than the cost of an asphalt shingle roof, metal roofs are usually a "once-in-a-lifetime" purchase. Compare this to the 12-20 years life expectancy of a typical asphalt roof.
Durability
When properly installed, metal roofs can withstand wind gusts up to 140 mph. Most metal roofs will not corrode when the right type is chosen for the area's climate. Coatings and treatments are available to provide even more protection. Depending on the thickness of the metal you choose, metal roofing can withstand hail of up to 2″ in diameter, as well as other impacts such as blown debris. The thickness is referred to as "gauge," with the smaller numbers indicating thicker and stronger material. For example, 29 gauge is thinner than 26 gauge, of the two most common thicknesses available. 26 gauge is much more resistant to denting from hail than 29 gauge. Some corrugated metal roof panels, for example, are available up to 22 gauge.
Fire Safety
Metal roofs provide better fire resistance, and will meet the Class A fire rating standard when the proper underlayment is used.
Energy Efficiency
Metal roofs are more or less reflective, depending on the type of finish used or applied. This reflectiveness alone can reduce cooling costs by as much as 10-25%. They also can provide better protection for insulated underlayments, making metal roofs a popular choice in passive home building.
Environmentally Friendly
Metal roofs are made from 25-95% recycled material, depending on the materials used. They are also 100% recyclable at the end of their life as a roof. By contrast, most shingle tear-off waste ends up as part of the building-related waste stream. This can be up to 20 billion pounds per year.
Disadvantages of Metal Roofing
While there are some pretty big advantages in favor of metal roofing, there are a few drawbacks.
Affordability
Standing Seam Roofs are often as much as two or three times more expensive than an architectural shingle roof. While the life of a metal roof is much longer, investing in a metal roof only makes sense if you plan to stay in your home long enough to enjoy the cost benefits.
Noise
Light gauge Metal roofs can be noisy, especially during a heavy rain or hailstorm. Adding more insulation during a roof installation will usually solve this problem.
Expansion and Contraction
Metal roofing materials attached as large panels tend to expand and contract. If they are not properly installed with approved fasteners and clips that allow the metal to move, the metal may become permanently warped. This is another factor to consider, and a reason to choose a quality, experienced installer rather than just looking at price alone.
Inconsistency of Color Matching
Finding an exact match to the existing metal if a repair is required may be difficult. The same is true if a home addition is added years later.
Performance
Water can become trapped anywhere on the roof because of poor-quality installation or repair. This can eventually cause serious damage to the underlying structure. Low-grade metals may also be thinner and less durable and more prone to buckling and denting. Metal roof panels with low grade coatings will rust in certain climates. Thin metal will dent more easily during hailstorms and installation.
Insurance
Absolutely, the most important thing to know about a metal roof is the answer to a common question.
"Will my homeowners or property insurance cover my roof from damage?" 
Surprisingly, the usual answer to this question is usually NO! Storm damage is less common to metal roofs. Because they are so durable, they are unlikely to be damaged functionally by storms and other perils. There are no missing shingles, and rarely bent flashings, etc. The most common damage to metal roofs is from denting, scratching, and marring. Most insurance carriers today put exclusions in their homeowners policies that will not cover cosmetic damage. This includes denting, marring or scratching of metals and soft metals on your property. If you are investing in a metal roof, it is crucially important to understand this. That way, you can find an insurance provider who will sell you a policy without this exclusion.
The metal roofing market has greatly expanded its options to include materials specific to various regions and climates. Usually, those who live in coastal climates can benefit from aluminum metal roofing materials due to their protection against rust and corrosion. Copper roofing, accents, and flashings can be attractive options, especially for higher end homes. Steel roofing expands and contracts with the temperature. This can make it better suited to changing temperature fluctuations.
Additional options
are available that better secure connections to help prevent weather from penetrating to the underlayment of roofing materials.
Contact Us
Cook Roofing Company is happy to provide our customers with a lifetime workmanship warranty on all of our roofing projects! We want to make sure that you are provided with the best in residential and commercial roofing so you can rest assured that your roof will protect you from any outside influences for years to come. When you'd like to know more about a metal roof installation in Springfield and Branson, MO be sure to contact our friendly staff members at (417) 334-4238 today. We'll be happy to guide you through your options to see what roofing materials will work best for your roof.