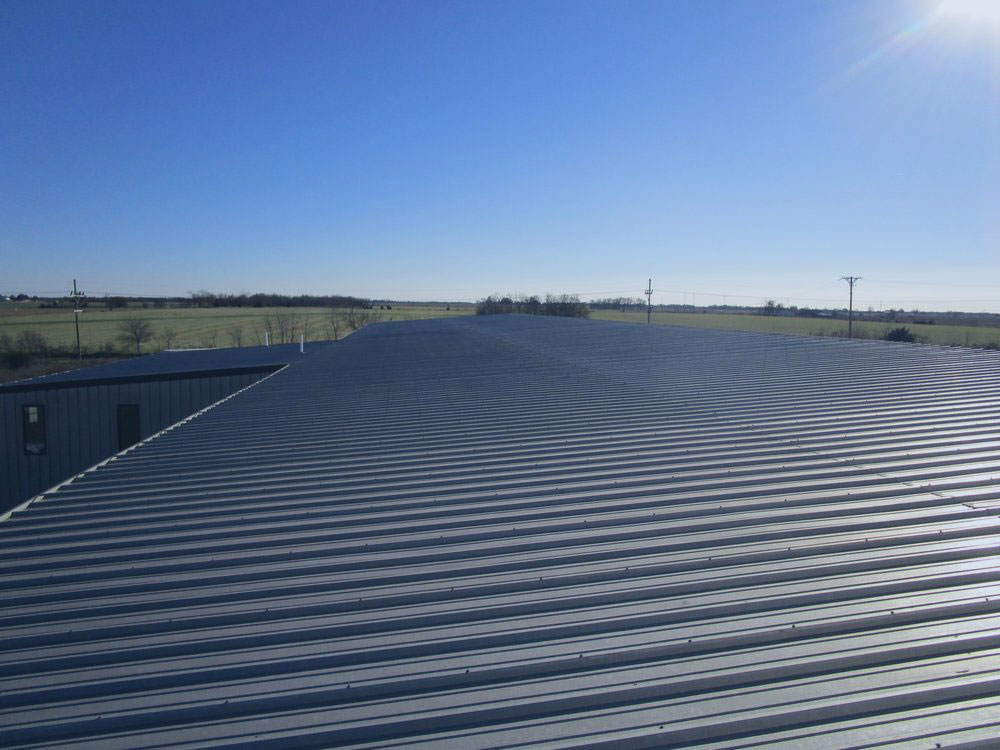 Upgrade Your Roof
A metal roof installation is a great way to get the best in roofing materials that the market has to offer! It's widely known for its range of benefits from enhanced protection and unmatched durability. Get a roofing material that can last generations with a metal roofing installation in Springfield and Branson, MO. Cook Roofing Company is a roofing company that has gathered industry knowledge on residential and commercial roofing since it's inception in 1913! That's decades of experience in perfecting the craft of roofing. To learn more about how a metal roof installation can be right for you, give us a call at (417) 334-4238 today.
Our Services
Metal Roofing Benefits
A metal roofing installation can last for 50 plus years and as far as 100 depending on the roofing material. They have been designed to withstand harsh weather impacts and protect from such common roofing problems as water infiltration and the spread of fires. Most metal roofing installation comes with Class 4 hail impact resistance which is known to withstand 2-inch steel balls and winds as high as 110 mph! That's why this roofing is great for areas with hurricanes or other severe weather such as tornadoes. A metal roof will be able to protect against water infiltration with their natural water shedding abilities as well as tight interlocking roof connections. These roofing materials hold environmentally friendly benefits as they are made from recycled materials and can be recycled at the end of their roof life. They also assist with energy conservation with their cool roofing abilities and help to lower building temperatures and thereby stabilize HVAC productivity. This is thanks to their reflective properties that can bounce back harmful UV rays that not only heat a building but also prematurely wear roofing materials. Ultimately, a metal roof can protect from many scenarios, yet if you find yourself in need of metal roof repairs do not hesitate to reach out to us! As with any type of roof the unexpected may happen, if you're in the need for metal roof repair in Springfield and Branson, MO be sure to ask for assistance at any time.
Types of Metal Roofs
The metal roofing market has greatly expanded its metal roofing options to include materials with specific benefits depending on the region where you live as well as climate. Usually, those who live in coastal climates can benefit from aluminum metal roofing materials due to their protection against rust and corrosion. A copper roof can prove essential in deflecting the spread of exterior fires in areas where forest fires are rampant. Steel roofing is a metal material known to be helpful in adapting to changing temperature fluctuations with its ability to expand and contract. On top of the types of metal roofing available, it's also essential that proper connections be made to prevent weather impacts from seeping to the underlayment of roofing materials. Mechanical and snap lock metal roofing connections form tight connections that make water infiltration near impossible to damage your roof! Other ways that you can customize your roof is to consider the profile and shape. Metal shingles can come in various cuts and sizes and can imitate various styles of shapes. With corrugated metal, you have a ribbed look which brings a sense of versatility to your roof. Finally, with a standing seam roof, you are imparting paneled vertical lines which can provide a prominent and well-established sense of a property. Be sure to have a roof inspection to properly determine the correct roofing materials & functions that will be the best match with your roof's characteristics and specifications!
Contact Us
Cook Roofing Company is happy to provide our customers with a workmanship warranty on all of our roofing projects! We want to make sure that you are provided with the best in residential and commercial roofing so you can rest assured that your roof will protect you from any outside influences for years to come. When you'd like to know more about a metal roof installation in Springfield and Branson, MO be sure to contact our friendly staff members at (417) 334-4238 today. We'll be happy to guide you through your options to see what roofing materials will work best for your roof.