Last Updated on December 7, 2023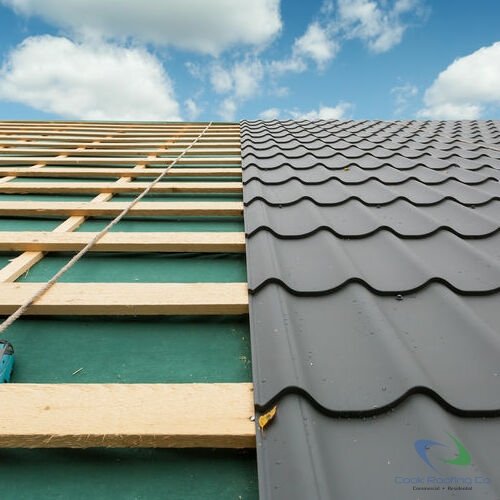 Metal Shingle Roofing for You in Springfield MO and Branson
Metal shingle roofs combine the strength and uncompromising integrity of metal with the look of a conventional roof system. In addition to conjuring the appearance of a composition shingles roof, a metal shingles roof will often be more affordable than a standing seam roof while providing the same quality standards of protection, longevity, and durability. The best roofing company to consult for your metal shingle roofing in Springfield MO and Branson is Cook Roofing Company. We care about the needs of our customers, which is why we adhere to high-quality standards in roofing. Please give us a call at (417) 334-4238 to hear more about how we can help you.
Benefits of Metal Shingle Installation
Whether prospective metal roof buyers are looking for a roof replacement or a new metal shingle roof installation for their new home, it's important to consider all the facts pertaining to this roofing material. Metal roofs can last forty to seventy years, depending on the specific metal used for the application, the quality of installation, and the amount of maintenance. In fact, some metal roofs can last longer than seventy years. Many metal roofs on the market today can withstand strong wind gusts speeds, making them very efficient in inclement weather. Finally, metal roofs are very energy efficient. They gain energy efficiency by reflecting solar radiant heat, which can reduce overall cooling costs by approximately 10-25%.
Metal Shingle Repair and More with Cook Roofing Company
Cook Roofing Company provides many roofing services, each with the same level of integrity. Taking responsibility for each roof installation is part of what sets our company apart from the competition. We would be happy to consult with you about the best roof for your home, taking into account your budget and your needs. We are only a phone call away, at (417) 334-4238.
Our company can help you with your roof repair. Our staff at Cook Roofing Company are ready to take your phone call at (417) 334-4238. Discover more about our quality metal shingle roofing in Springfield MO and Branson and what we can do for your home!