Last Updated on January 2, 2020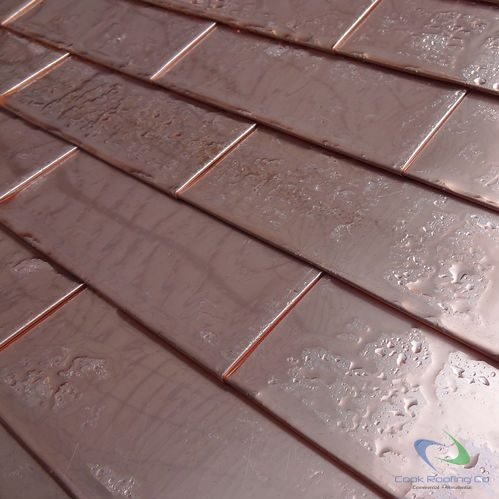 Attractive Roofing Selection
Cook Roofing Company has a variety of metal roofing options for your property's appeal! With a copper roof, you can implement a multitude of benefits, from rust-resistance to thermal adaptability. When you're interested in copper roofing in Springfield MO and Branson contact our staff for guidance! We'll be able to determine the best course of action in your roofing project so you can get the most in durability and roof life. We look forward to speaking with you at (417) 334-4238.
More Information on Copper Roofs
Copper roofing is a metal roofing material that has a number of benefits that can increase the life of your roof with minimal maintenance. Uncoated copper won't need to be cleaned and rain can wash away dirt due to the quality that copper alloys have natural bacteria and fungus resistance which can prevent rot and mold. They also won't need to be repainted or recoated as they will never rust or corrode through time. A copper roof will be able to protect your roof from inclement weather as well as such elements of hail, rain and high winds. It has fireproof abilities that can prevent the spread of external fires and it won't warp unless under extreme heat pressures. This high heat threshold will allow the roof to have minimal expansion and contraction in hot and cold cycles. Here are some reasons as to why copper roofing can be a great choice for your property!
Protect Against Inclement Weather
50 Plus Life
Antimicrobial
Lightweight
Fireproof
If you're in need of copper roof repair in Springfield MO and Branson give us a call. Whenever you require emergency assistance we've got 24/7 roofers ready to assist you!
Give Us A Call For Assistance
Cook Roofing Company has years of experience in the roofing industry! When you're in need of a copper roof installation in Springfield MO and Branson you can expect expert precision and attention to detail. With a roof inspection, the characteristics and specifications of your roof can be properly determined for your convenience. Give us a call at (417) 334-4238 for more information. We'll be happy to get the roofing process started.