Last Updated on January 2, 2020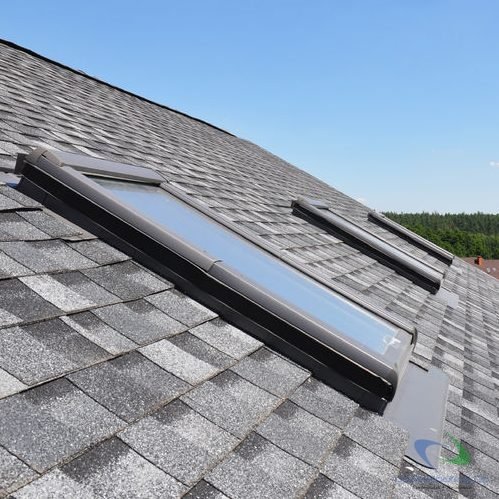 Add More Light & Ambiance
Your skylight can be a great addition to your home with its natural light and scenery. Yet they must be maintained like any component of your property and when you notice any issues be sure to reach out to Cook Roofing Company to help! Our professional roofers have years of experience and will be able to offer exceptional skylight repair in Springfield MO and Branson. Talk to our helpful staff members if you have any questions at (417) 334-4238. We look forward to working with you!
Prevent Problems With Skylights
As with most roofing issues, water can play a large role in causing issues with integrity be it with leaks, mold, moss and other formations. With improper skylight installation or poor surrounding flashing, you may see condensation problems emerge with your skylight. Other factors such as debris, snow, damaged flashing or cladding can block paths of water flow from a roof and have them surround the skylight. In order to prevent water infiltration and additional pressures, it's therefore important to have fasteners secured and make sure that cladding isn't scratched. As far as condensation formation, there are channels on the perimeter of the glass of the skylights as well as weep holes so it's important to make sure that these areas are not clogged in order to secure the passage of water.
Secure Surrounding Flashing
Remove Debris
Unclog Weep Holes
Secure Fasteners
Inspect Cladding
If you'd like a skylight replacement in Springfield MO and Branson give us a call. If you require emergency repairs we're glad to help with our 24/7 availability!
Give Us A Call For More Info.
If your skylights are properly maintained you won't have to worry about these issues arising, that's why if you'd like a more extensive check on your roofing systems an annual roof inspection is highly recommended. Cook Roofing Company is happy to assist you with your skylight repair in Springfield MO and Branson. Our roofers are experienced with various types of roofing issues and will be able to get your skylights back into great conditions. Be sure to make a call whenever you'd like to have assistance with your skylight repair at (417) 334-4238.