Last Updated on January 1, 2020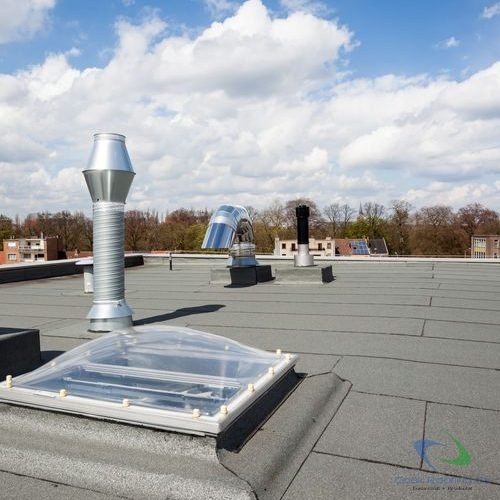 Improve Your Roofing System
Your industrial roof is a system that needs professional care, be it through maintenance, installations, repairs or replacements. Cook Roofing Company will make sure that no matter what roofing problem your building is undergoing, skilled results will be made for the betterment of your industrial roof. When you have any questions about industrial roofing in Springfield MO and Branson give us a call at (417) 334-4238!
Industrial Roof Problems
Industrial roofs can go through many problems similar to other roofing membranes. Top contributors to roofing damages involve water and can show up as stains/discoloration, mold, ponding water, and leaks. With water damages, it's important to determine if they are localized in one spot or spread throughout the property as this can determine whether a repair or replacement is necessary for the solution. With ponding water, this may especially be so if water has infiltrated below the roofing substrate which leaves insulation waterlogged and soft to the touch. Not only will this add extra weight on your roof but it will compromise insulation and roof durability. Other instances to look out for regarding your industrial roofing damage from high winds, rain, hail, snow, and more, as even minor storms can potentially infiltrate the roof surfaces. Be sure to have your roof inspected as regularly as you can or at the least annually so potential problems can be addressed at their minimal stage.
Mold Spots
Stains/Discoloration
Sun Damages
Leaks
Ponding Water
Inclement Weather
Mechanical Damage
Rood Age
When you're in need of industrial roof repair in Springfield MO and Branson contact our friendly staff for assistance. We'll be able to determine the best course of action for the betterment of your industrial roofing system in Springfield MO and Branson!
Contact Us To See How We Can Help
Count on the professionals here at Cook Roofing Company to assist you with your industrial roof. We have decades of experience in the roofing industry and have fine-tuned processes to get the best out of your roof! With an industrial roof installation in Springfield MO and Branson Cook Roofing Company our skilled roofers will provide you with quality results for a stronger roof. Give us a call at (417) 334-4238 today!