Last Updated on December 7, 2023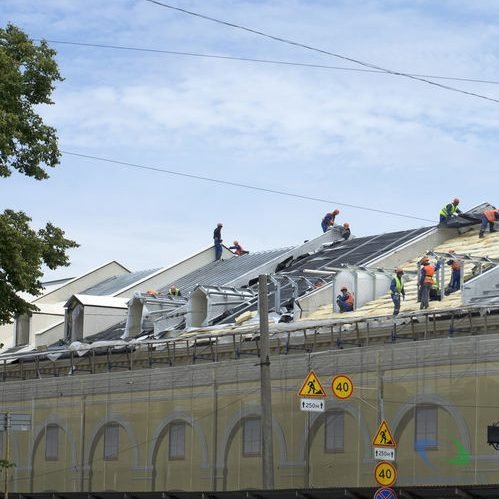 Upgrade and Improve Your Commercial Roof
Your roofing system has a pretty long life yet there will come times when outside elements may affect the integrity of your roof or even cause your roofing to age faster. Even naturally over time materials will age and a time will come where there will be a need for replacement. Whenever you're in need of commercial roof replacement in Springfield MO and Branson be sure to contact Cook Roofing Company. We have various options for commercial roofing which will assist your overall system. Simply give us a call at (417) 334-4238 to see how we can be of assistance to you.
Information Surrounding About Replacements
Your commercial roof has an average roof life of 20 years, yet it can range between 10-50 years depending on the roof membrane, additional protective coatings, and general maintenance practices imparted on your roofing membrane. It's important to keep up to date of any inspections, cleaning, or repairs that your roof needs in order to limit the progression of small problems from growing into bigger ones. Some things that can affect the life of your roof can range from water damages, premature age from the sun, flexibility of the membrane, an ability to adapt to temperature changes, inclement weather and improper roofing repairs or installations. Essentially, problems can change depending on your roofing materials as each can react differently to different factors. Ultimately if the integrity of your roofing system has been compromised, as seen with water absorption or severe rust, (typically with metal roofs) a commercial roof replacement is necessary. Here are some signs that it's time for a commercial roof replacement.
Roofing is 20-30 Years Old
Leaking in Multiple Spots
Soft Spots/Wet Insulation
Deteriorating Flashing
Severe Rust
Extensive Granule Loss
Visible Scrim Reinforcement
Splitting, Holes, Curling or Buckling Membrane
Visible Daylight Around Perforations/Through Membrane
To learn more about commercial roof replacement in Springfield MO and Branson Cook Roofing Company contact us today for more information!
Give Us A Call Today
When you're roofing materials are severely damaged or have aged naturally it's important to get your roof inspected in order to properly see what can be done to remedy your roof. A commercial roof replacement in Springfield MO and Branson may be necessary to get it back on track. If you have any questions be sure to contact Cook Roofing Company for assistance. We'll be happy to guide you through the process at (417) 334-4238. You're in great hands!