Last Updated on January 2, 2020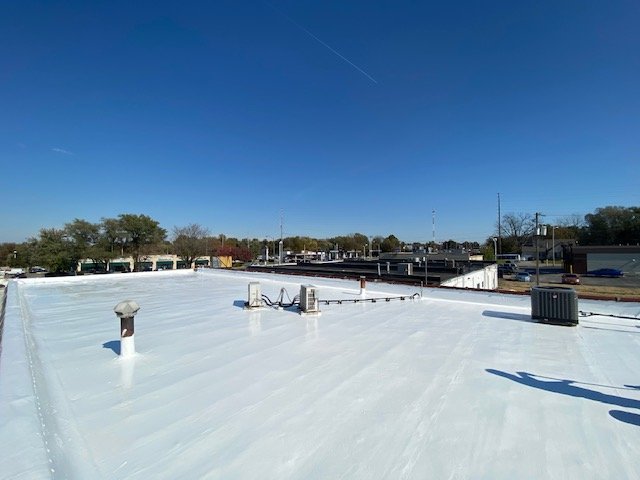 Roofing Pros for Your Commercial Restoration
Building owners and facility managers know the difficulty of keeping a commercial roofing system in optimal condition. Commercial roof restoration is an excellent and affordable choice for roofs that have minor widespread damage. With roof restoration, you may be able to avoid roof replacement altogether. We recommend scheduling an appointment with Cook Roofing Company to determine the current condition of your roof. Staging an intervention at the right time for your commercial roof can save you money and stress in the long run. Please give us a call at (417) 334-4238 to schedule an appointment for your customized commercial roof restoration in Springfield MO and Branson. We will make sure to manage and address your roofing needs so that your roofing solution is affordable and manageable.
Roof Restoration Versus Replacement
A commercial roof replacement is expensive but necessary when roof damages are too extensive. However, if the roof damage is minimal to intermediate, a roof restoration is a prime choice. Roof restorations stop leaks and bring the roof back to a water-resistant condition. In addition, a properly processed roof restoration can extend the life and the warranty of the current roof. It is important to note that a large portion of time in a roof restoration is dedicated to thoroughly cleaning the roof. During this process, the roof will be tidied, patches and seams sealed, and materials readied for the liquid-applied and field-fabricated roof coating.
Your Roofing Goals are Our Roofing Goals
Our experts know that dealing with a damaged roof can be stressful. We work with you to complete a comprehensive roof inspection to find out if your system needs roof repair or restoration. Having first-hand knowledge of what helps roofs is part of what sparks our passion for this industry. Science, technology and practical application come together in a well-restored roof. For more information about acrylic and elastomeric roof coatings, please feel free to reach our roofing company at (417) 334-4238.
You need a roofing company that knows how to commence a commercial roof restoration in Springfield MO and Branson. We consistently deliver proven results. Call Cook Roofing Company at (417) 334-4238 to speak with our staff about making an appointment today!