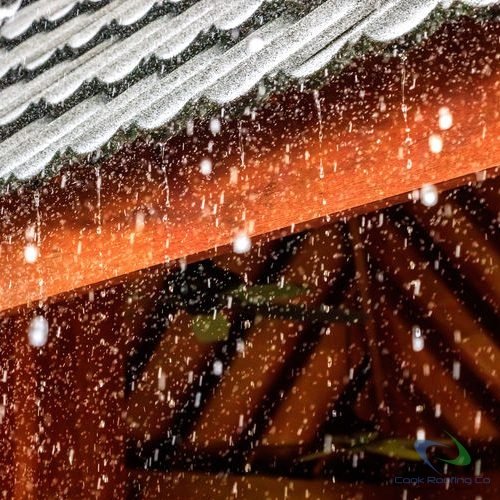 Eliminate Water Damages
Cook Roofing Company you'll be properly guided through your roofing options. Since the company was founded in 1913, we have made a point to provide quality results, which is why we back up all of our projects with workmanship warranties. When you're interested in a residential roof installation in Springfield and Branson, MO count on our staff to guide you through your roofing options. We look forward to speaking with you at (417) 334-4238!
How Roof Leaks Affect Your Home
Roof leaks can emerge for a number of reasons. One such reason could be due to storms that have infiltrated your roofing materials. With high winds, certain roofing materials can be blown off which leaves underlying materials exposed to the mercy of inclement weather conditions. With water infiltration, you can see roofing materials absorbing the liquid and forming stains, mold, and mildew. Wooden beams can even become waterlogged and start to rot! When a water leak occurs, you may see such clues as stains on your ceiling or exposed leaks that drip onto the floor. As the attic is directly under roofing materials, you may be able to go up and see if any light sheds through with perforations. As of such, checking the exterior of the roof can also provide hints with missing shingles or exposed flashing and underlayment. If you see moss growing or dark stains on your roof than this can point to water damages as well. Even secure roofing materials like with metal can be susceptible to leaks, yet this is mainly due to cases of improper initial installations. If a storm has passed and you notice any strange occurrences it may be best to have your roof inspected as catching problems in their beginning stages is better than finding severely damaged or rotted materials after time has passed. Here are some signs that a roof leak may be present.
Presence of Mold/Mildew/Moss
Water Dripping From Ceiling
Exterior or Interior Water Stains
Waterlogged Attic Beams
Outside Light From Roof
Missing Flashing/Shingles
When you need assistance with roof leak repair in Springfield and Branson, MO our roofer is ready for you. Our staff may also be of assistance with any help with insurance claims so you can get properly covered for your water damages!
Roof Patch Vs Replacement
There is a range of damages that can occur with a roof leak, some materials may have been so compromised that a replacement may be necessary while another issue can be that only one area needs to be patched or recovered.Cook Roofing Company has expert roofers that will be able to gauge the severity of the issue with a roof inspection so the most cost-effective solution may be implemented. For more information on how to determine the severity of a roof leak give us a call for roof leak repair in Springfield and Branson, MO.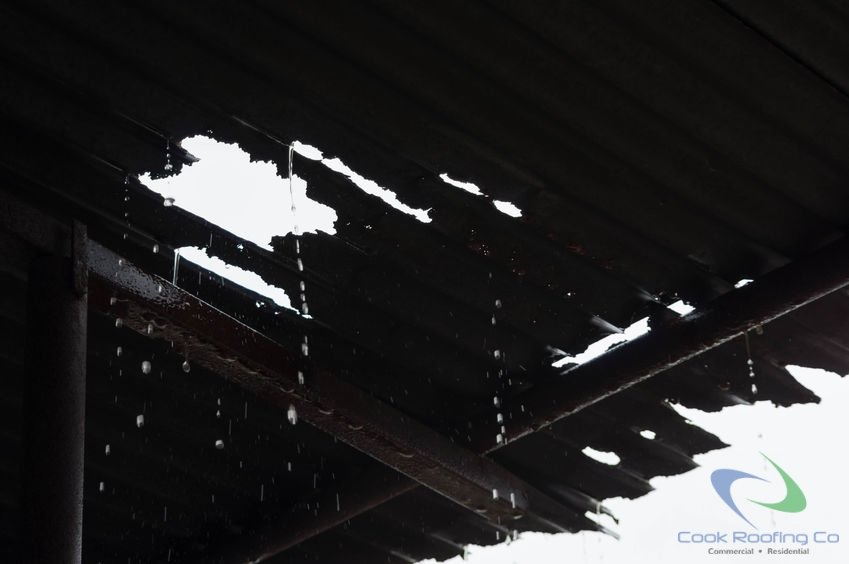 Contact Us For Roof Leak Protection
Cook Roofing Company is ready and able to provide you with 24/7 emergency roof repair whenever necessary! Simply give us a call and a staff member will schedule a roofer out to your property within the day so you can get repairs fast! Benefit from efficient roof leak repair in Springfield and Branson, MO! If you have any questions, we'll be happy to guide you at (417) 334-4238 today! Get the roof leak protection that you deserve!